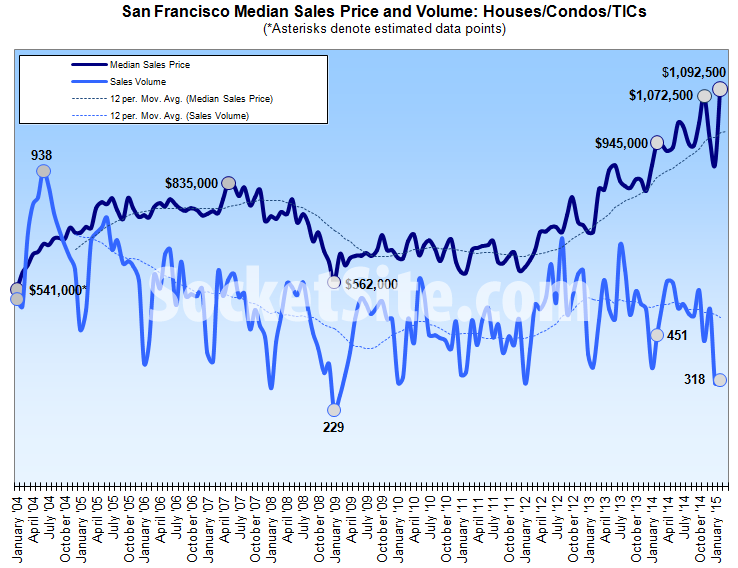 Having hit a record high of $1,072,500 this past November, the median price paid for a home in San Francisco dropped to $885,500 in January but returned to a record high $1,092,500 in February, a 23.4 percent jump over the past month and 15.6 percent higher versus the same time last year.
That being said, while the inventory of homes for sale in San Francisco is currently higher on a year-over-year basis, recorded home sales in February were the slowest since 2009 and 29.5 percent lower versus the same time last year. And while home sales did increase 3.2 percent from January to February, that's 11 percentage points lower than average for this time of the year.
Across the greater Bay Area, homes sales dropped 1.4 percent from January to February and are down 10.9 percent year-over-year, the slowest February since 2008.
The median price paid for a Bay Area home in February dropped 1.2 percent from January to $565,000 but remains 4.6 percent higher versus the same time last year, the smallest year-over-year change in nearly three years. At the same time, the median price last month was 95 percent higher than the low-water mark of $290,000 recorded in March of 2009. The Bay Area median home price peaked at $665,000 in July of 2007.
At the extremes around the Bay Area in February, Solano was the only county to record a meaningful year-over-year increase in sales volume, up 17.3 percent with a median sale price of $318,000, up 21 percent year-over-year, the largest Bay Area gain. San Francisco's 29.5 percent drop in sales was the largest drop by far, followed by a 17.6 percent drop in Santa Clara.
Keep in mind that DataQuick reports recorded sales which not only includes activity in new developments, but contracts that were signed ("sold") months prior but are just now closing escrow (or being recorded) and any properties that were sold "off market."
And as always, while movements in the median sale price are a great measure of what's in demand and selling, they're not necessarily a great measure of appreciation or changes in value.
Ultimately, if you're part of the percentage of people moving to the Bay Area, you might want to look into this Bay Area Movers company. Whether you're moving your home or office, Bay Area Movers are committed to meeting all of your moving and storage needs.