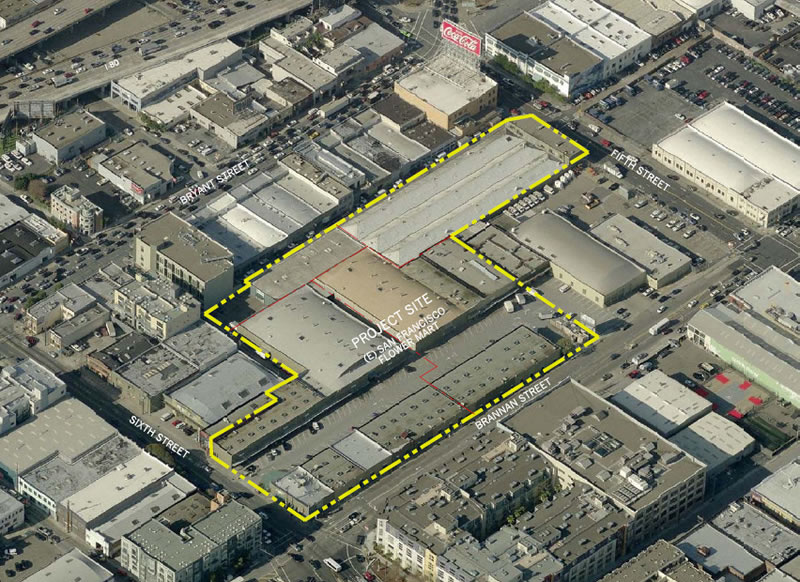 While Kilroy Realty has been tight-lipped with respect to their plans for the San Francisco Flower Mart parcel, at least beyond a new high-tech underground market for the mart, the firm has been quietly working on designs for a three-tower development to rise up to 250-feet in height on the project site.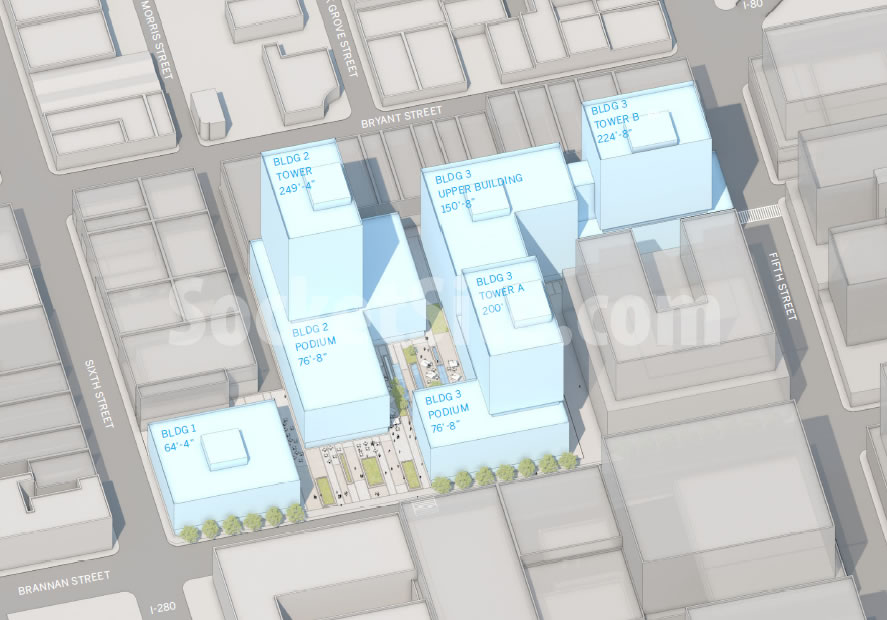 In addition to the 115,000-square-foot replacement Mart, the project as proposed, and recently submitted to Planning for review, includes 46,000 square feet of ground-floor retail and restaurant space (10,000 square feet of which would be for the Mart's retailers around two 17,000-square-foot plazas), and nearly 1.5 million square feet of space for office use.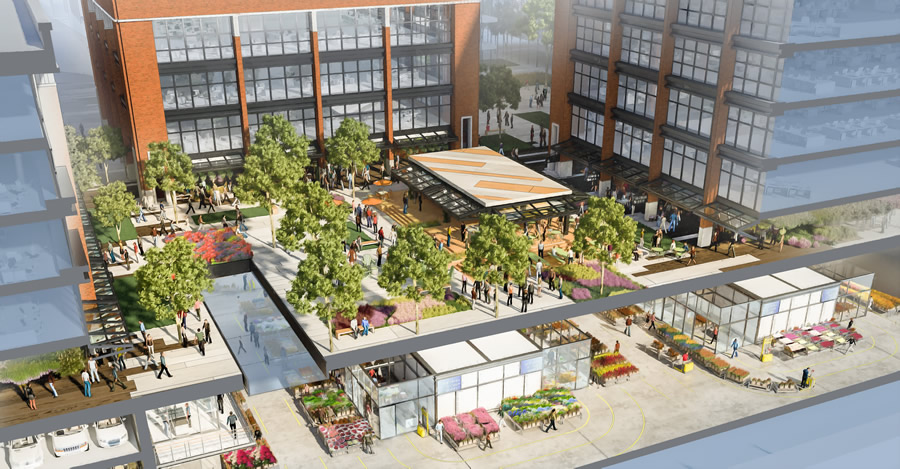 A breakdown of the proposed buildings and towers to rise across the site, by way of a plugged-in tipster:
A 5-story, 119,000-square-foot Building One rising to a height of 65 feet at the corner of Sixth and Brannan
A 490,050-square-foot Building Two at the northwest corner of the property, fronting Morris Street and the private alley to the north, with a 14-story tower over a 6-story, 77-foot-tall podium, for a total of 20 stories and 250 feet in height, and
A 971,400 square Building Three on the eastern portion of the property, bordering Brannan to the south and Fifth to the east, with a 6-story, 77-foot podium building, over which two towers and an upper Building would rise up to 225 feet in height, with a 200-foot Tower A on the southeast corner, a 225-foot Tower B on the northeast corner, and a 150-foot Upper Building on the northwest corner, all connected by two pedestrian bridges on the 7th through 12th floors.
An underground garage with its entrance by way of Morris would provide parking for 300 cars, with 150 spaces designated for Flower Mart use.
Keep in mind the Flower Mart site is currently only zoned for industrial use and building up to 55-feet in height.  And while the City's pending Central SoMa Plan recommends the parcel be rezoned for commercial development, it also only recommends an increase to 85-feet in height.