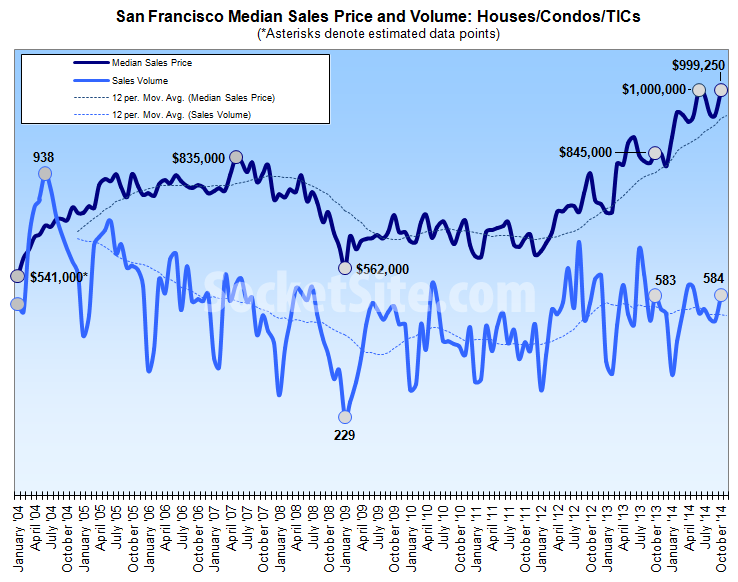 The number of San Francisco homes sold and the median price paid both rebounded in October, with the sales volume up 14.5 percent from September and even with the October before.  The sales volume in San Francisco typically rises from September to October but has increased has averaged 3.6 percent over the past ten years.
Having hit a record $1,000,000 in June, the median price paid for a property in San Francisco dropped for three months in a row but rebounded to $999,250 in October, up 6.5 percent from the month before.  A mix-driven increase in the median from September to October is typical in San Francisco and has averaged 4 percent over the past ten years.  In addition, the share of luxury home sales in San Francisco jumped a few points in October.
The median sale price for a home in San Francisco is currently 18.3 percent higher on a year-over-year basis, 78 percent higher than the recent low-water mark of $562,000 recorded in January of 2009.
Across the greater Bay Area, homes sales increased 3.4 percent from September to October, 1.3 percent higher versus the October before while the median price paid slipped to $601,000, down 0.5 percent from September but 11.3 percent higher, year-over-year and 107 percent higher than the low-water mark of $290,000 recorded in March of 2009.  The Bay Area median home price peaked at $665,000 in July of 2007,
At the extremes around the Bay Area last month, Napa County recorded the greatest drop in sales volume for the second month in a row, down 7.4 percent versus the October before but with a median price which was 13.8 percent higher.  Contra Costa recorded the greatest year-over-year increase in home sales volume, up 6.8 percent and with a median sales price of $455,000, up 15.2 percent year-over-year, the second greatest gain behind San Francisco.
Keep in mind that DataQuick reports recorded sales which not only includes activity in new developments, but contracts that were signed ("sold") months prior but are just now closing escrow (or being recorded) and any properties that were sold "off market."  And as always, while movements in the median sale price are a great measure of what's in demand and selling, they're not necessarily a great measure of appreciation.