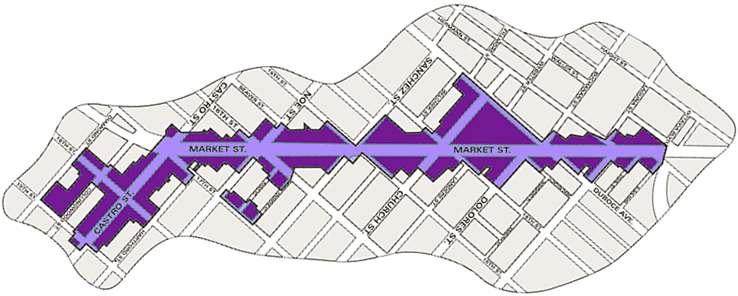 While the Castro and Upper Market commercial corridor is currently the second most active business district in San Francisco, behind only Union Square, there are currently 28 vacant storefronts along the corridor and the retail vacancy rate is hovering around 7 percent, nearly twice the city's overall average.
And with new construction adding over 30,000 square feet of retail space along the corridor over the next couple of years, enough space for another 15-20 medium-sized stores, some have concerns that the vacancy rate could cross the 10 percent mark and that the new development could threaten the corridor's character and draw.
Aiming to address the existing vacancy rate while developing a plan to fill new ground floor retail "in a manner that enables the commercial corridor to thrive while preserving its unique character and draw as a tourist destination," a coalition of business and neighborhood groups have launched a Retail Strategy Project for the corridor.
Led by the Castro/Upper Market Community Benefit District along with the Duboce Triangle Neighborhood Association, the Castro / Eureka Valley Neighborhood Association, and Castro Merchants, and funded in part with a grant from the City's Office of Economic and Workforce Development, the coalition hopes to have a plan in place which can be "legislated, assigned to responsible parties, or adopted by SF Planning Department" within a year.