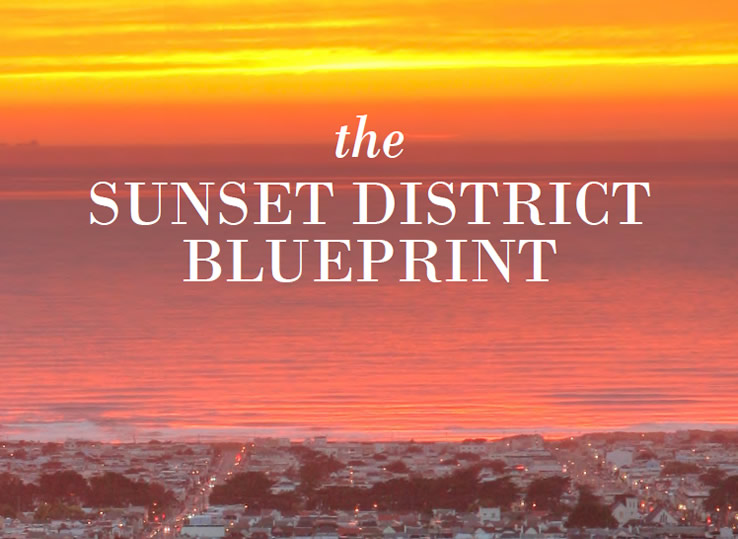 The culmination of over a year's worth of work, Supervisor Katy Tang's Office has published the Sunset District Blueprint, an outline of the "goals, objectives and strategies" for developing the district over the next decade, "and beyond."
The five main areas addressed in the blueprint: Public Transportation & Pedestrian Safety; Public Safety & Emergency Preparedness; Children & Families; Economic Development; and Land Use.  And the blueprint's seven specific objectives with respect to the use of land and growth:
Identify areas where additional housing can be built on underutilized lots and along transit and business corridors, and engage property owners, the community and developers
Create vibrant, mixed-use development responsive to community needs on currently underutilized sites
Ensures that any growth in the Sunset District does not adversely impact the existing residential neighborhood character
Encourage development of housing that serves a variety of household types
Support housing for middle income households
Work with Planning Department in their citywide effort to revise Residential Design Guidelines for easier understanding and a smoother process for property owners
Encourage development of new housing or remodeling of existing housing to accommodate seniors and individuals with disabilities by promoting universal design principles
As noted by the San Francisco Business Times, achieving the first objective could add 1,000 units of new housing to the Sunset, "without any changes to existing height limits or zoning," an increase of roughly 4 percent over the existing 25,000 units in the area.
Which begs the question, in light of the projected growth for San Francisco, should a rethinking of existing height limits and zoning be Land Use objective number eight in the Sunset's blueprint, if not number one or two?