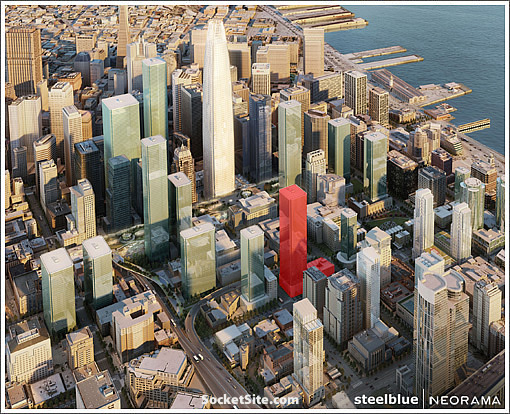 Three teams have responded to the city's request for proposals to develop San Francisco's Transbay Block 8, the one-acre parcel fronting Folsom Street between First and Fremont.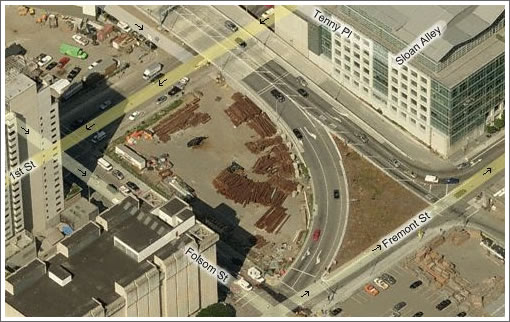 The three developers bidding are Millennium Partners (think Millennium Tower), Related California (think the Paramount at 680 Mission), and Golub (think 299 Fremont). And according to the Business Times, a starchitect has been drafted for one of the designs.
The teams feature two well-known local architects as well as one of the "starchitect" variety. Related California has picked Rem Koolhaas' Office For Metropolitan Architecture. Koolhas has never completed a San Francisco building, though he is familiar with the city because a controversial Prada store he designed near Union Square was rejected more than a decade ago.

Golub is working with Chris Pemberton of Soloman Cordwell Buenz, which also is designing 299 Fremont. Millennium has selected Glenn Rescalvo of Handel Architects, who also designed the Four Seasons and Millennium Tower.
With a site that's zoned for a tower up to 550 feet in height, the city is seeking "a high-density, residential project with approximately 740 units, 27 percent of which must be affordable to qualifying households, and ground-floor retail in multiple building types," including the tower, townhouses, and podium buildings as rendered in red above.
A request for proposals to develop Transbay Block 8 was first issued back in 2008 but then cancelled in 2009 when when bids for the property came in "well below the potential value of the site in a healthier real estate market." The cancelled request had targeted the development of 597 housing units on the site, nearly 20 percent fewer than today.