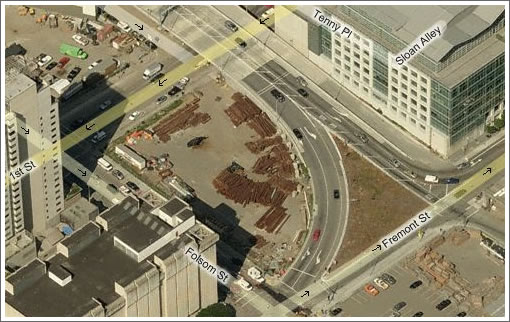 While the expected grand opening of San Francisco's new Transbay Terminal has been pushed back a year to 2015, J.K. Dineen now reports the San Francisco Redevelopment Agency has "suspended efforts" to develop housing on Transbay Block 8.
The San Francisco Redevelopment Agency has suspended efforts to develop housing on a key Transbay District parcel after bids for the property came in "well below the potential value of the site in a healthier real estate market," according to a memo from Executive Director Fred Blackwell.

Blackwell said the agency decided to suspend the request for proposals process for Block 8, a 42,600-square-foot parcel on Folsom Street between First and Fremont streets. The agency is looking for a developer to build two market-rate structures: a 550-foot residential tower and an adjacent 50-foot residential townhouse development. In addition, the RFP called for a 100 percent affordable building 65 to 85 feet.
Noting "the agency should wait for conditions to improve rather than sell under current market conditions," Blackwell expects to issue a new RFP in 2010 which we'll call a bit optimistic considering the current trends and typical market cycle.
∙ In The Pipeline For First And Folsom: 550-feet And 600 Units [SocketSite]