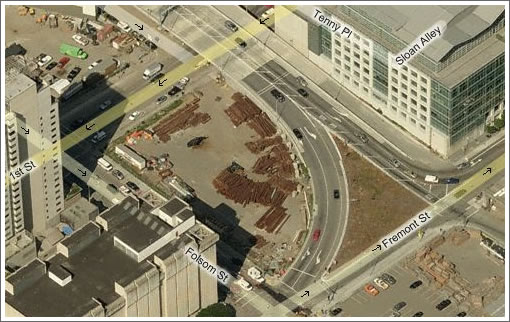 From JK Dineen at the San Francisco Business Times:
"The San Francisco Redevelopment Agency is seeking a developer to tackle a prime 600-unit residential project at First and Folsom streets, the first step in a planned 2,600-unit highrise Transbay District the city is counting on to help pay for a new Transbay rail and bus terminal.

On Sept. 8, the agency will issue a request for proposals for Block 8, one of a dozen state-owned lots freed up when the elevated Embarcadero Freeway was knocked down after the 1989 Loma Prieta earthquake. While nine of the 12 parcels are set to be eventually redeveloped with housing — two will be parks and one a 700,000-square-foot office tower — Block 8 is the boldest. It calls for a 550-foot tower reaching above two mid-rise affordable apartment buildings and a row of townhouses that will open onto Folsom Street, a thoroughfare that will eventually be reconfigured as a retail mecca with wide sidewalks, greenery and outdoor seating.

"It's a tough deal for a whole bunch of reasons," said Tony Crossley, a broker with Colliers International who has brokered a number of land deals in the area. "Construction costs are very high, condo prices and the rate of absorption are off and then you roll in the increased affordability (probably around 25 percent) and you really have to do some hard math."
Wait a second, condo prices are off?
UPDATE: Our apologies in advance, but the proverbial wheels have come off the comment bus (and apparently we're to blame). We'll get them back on soon.