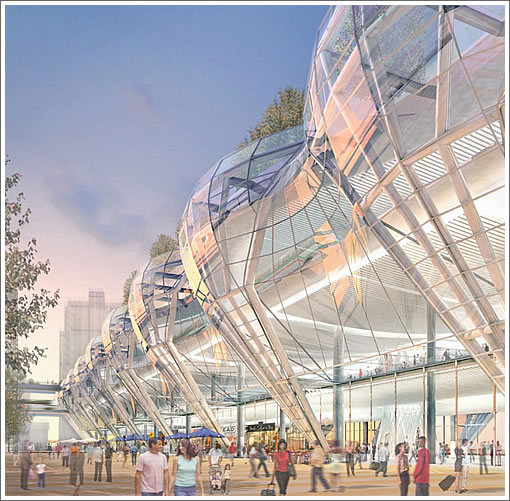 Banking on $400 million in federal stimulus funds to be announced by the Federal Railroad Administration in October, the Transbay Joint Powers Authority has modified construction plans for San Francisco's Transbay Transit Terminal.
With a first phase originally scheduled to open in 2014 (retail, bus, and park) and construction of its underground train station component (Caltrain and high-speed rail) to follow, the new plan calls for the pre-construction of an unfinished train station and a late 2015 opening for the above ground portions of the terminal.
If the stimulus funds are not made available, and no other funding can be identified, then up to $15 million worth of engineering and design efforts planned to take place between now and October will be wasted, and the project will open four months behind the original schedule without a train station, staff and consultants told directors.
"I'm a gambling man and I'm willing to roll the dice," Supervisor Chris Daly, a Transbay Joint Powers Authority director, said during the hearing. "High-speed rail is happening in California. It's coming to downtown San Francisco. Everyone's excited, but if [initial construction of the train station] doesn't happen, we're in the hole $15 million."
Pre-building the train station would save an estimated $100 million in construction costs. But no word on whether or not they're still proposing to pre-build said station the wrong (or right) way.