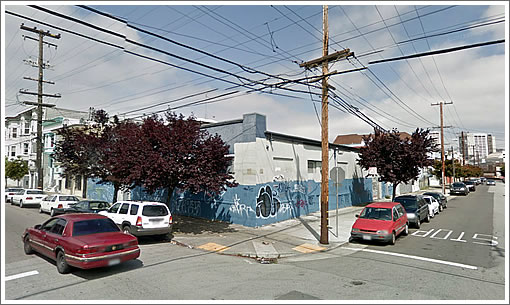 Permits to demolish the one-story warehouse on the northwest corner of 15th and Shotwell and construct a four story building with ten apartments on the site were disapproved in 2010, at which point the development plans for the parcel were cancelled.
Purchased for $1,450,000 this past October, a new plan has been quietly pitched to Planning with a proposal to demolish the building at 1450 15th Street and construct a 5-story, 50-foot tall building with 23 dwelling units and parking for 17 cars and 12 bikes.
From the Planning Department's assessment of the property back in 2004 having identified it as a potential historic resource for the neighborhood:
This Industrial building is a representative of a general warehouse-industrial style, and dates from the reconstruction period of development (May 1906-1913). Industrial buildings are used for manufacture or distribution of products. Industrial buildings include canneries, warehouses, public stables, automotive repair and maintenance structures, and machine shops. It is a standard in its context but is not important because its context lacks cultural or architectural significance.

There is no evidence that the history of this property is associated with any persons or events of recognized significance in National, California, or San Francisco's history, nor is the architect, designer, or builder identified in association with its construction…This property is not the work of a master, but is typical of modest structures of similar vintage in the Mission in its design and construction method. It does not possess high artistic values, is not distinctive, nor does it belong to distinguishable entity whose components may lack individual distinction…This property was not fully assessed for its potential to yield information important in prehistory or history…For these reasons, this property is found ineligible for National, or California Registers or Local designation through survey evaluation.

The building appears to be in good structural and material condition. This property retains integrity of location, design, setting, materials, workmanship, feeling, and association.

Character defining features that should be preserved: none.
As always, we'll keep you posted and plugged-in.