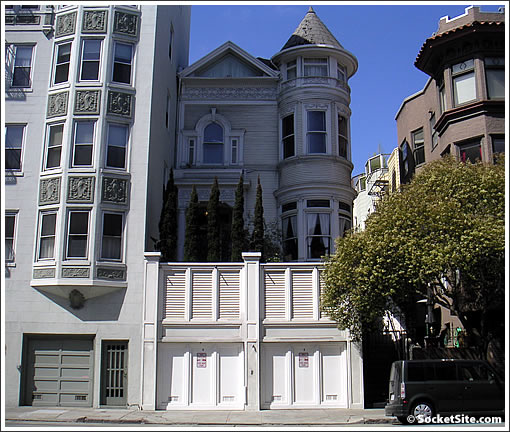 Previous owners of the Pacific Heights home at 1945 Franklin Street have included Nicholas Cage, Howard Grossman, and Patricia Arquette. And as plugged-in people know, the infamous Excalibur with "ACQUIRE" license plates currently resides in the garage.
As we reported when 1945 Franklin was scheduled to be un-acquired on the courthouse steps last year:
Purchased in June of 2005 for $3,000,000 by way of a $2,350,000 first mortgage and a $790,000 construction loan second (yes, that's over 100% financed), the property was refinanced in September 2006 to the tune of $5,000,000 to which a $500,000 home equity line of credit was added three months later.
Scheduled to hit the courthouse steps last September with $5,684,086 owed as of August 2009, the balance due on the $5,000,000 first was up to $6,157,795 as of this past January. And no, we don't believe any payments have been made since.
Having survived yet another year in foreclosure, and now with $6,594,973.24 owed on that $5,000,000 first alone, 1945 Franklin is once again scheduled to hit the courthouse steps in just a few minutes with an opening bid of $3,235,600.
From an Examiner piece on the eccentric owner of the home back in 2006:
He owns Hudson & Hudson, a private "boutique investment bank" that specializes in mergers and acquisitions. He said he hooks up people looking to buy or refinance a company with lenders. He charges his clients on a percentage scale based on how many millions they're financing.
"What I try to do instead of being a broker … I try to work with underwriters. I say, 'Don't pay us [Hudson & Hudson], take it off the borrower's interest rate,'" Hudson said, explaining that he advises his clients in ways to borrow money, which underwriters themselves are barred from doing legally.
Throughout his career, he's endeavored to come up with innovative concepts to make money.
UDPATE: A plugged-in tipster reports today's auction was postponed at the last minute, now scheduled for 10/29/2012 at 2pm. That's at least another couple weeks of mortgage free living in Pacific Heights. Innovative, indeed.