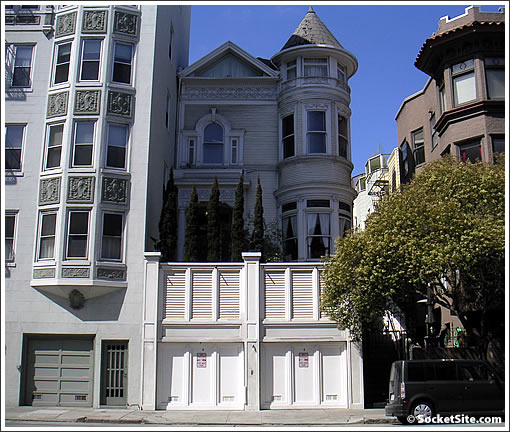 As a plugged-in reader notes, the six bedroom home at 1945 Franklin is scheduled to hit the courthouse steps on September 16 with $5,684,086 owed as of August 2009.
Purchased in June of 2005 for $3,000,000 with a $2,350,000 first and a $790,000 construction loan second (yes, that's over 100% LTV), the property appears to have been refinanced in December 2006.
As our reader also notes, previous owners have included "Nicholas Cage, Howard Grossman, and Patricia Arquette" while the current owner was once dubbed San Francisco's "most naked capitalist."
UPDATE: The $5,684,086 balance due was as of the Notice of Trustee Sale (NOTS) filing in August 2009 while the refinancing was in September 2006 in the amount of $5,000,000.
In December of 2006 a home equity line of credit was opened with a $500,000 limit.
And according to a couple of plugged-in readers, that infamous Excalibur seen about town with "ACQUIRE" license plates currently resides in the garage (alongside a Range Rover), apparently "BorrowSpendDefault" didn't have the same ring to it.