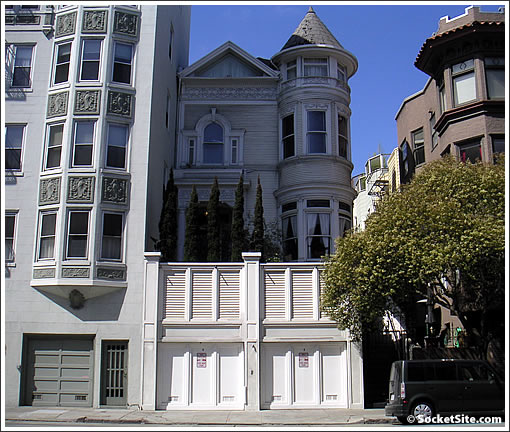 Speaking of "free" foreclosure living in San Francisco, it was a year ago that we first wrote about 1945 Franklin, the six bedroom Pacific Heights home whose previous owners have included Nicholas Cage, Howard Grossman, and Patricia Arquette.
Purchased in June of 2005 for $3,000,000 by way of a $2,350,000 first mortgage and a $790,000 construction loan second (yes, that's over 100% financed), the property was refinanced in September 2006 to the tune of $5,000,000 to which a $500,000 home equity line of credit was added three months later.
Scheduled to hit the courthouse steps last September with $5,684,086 owed as of August 2009, the balance due on the $5,000,000 first was up to $6,157,795 as of this past January. And no, we don't believe any payments have been made since.
As plugged-in people know, that infamous Excalibur seen about town with "ACQUIRE" license plates currently resides in the garage (alongside a Range Rover). Once again, apparently "BorrowSpendDefault" didn't fit nor have the same ring to it.
The Pacific Heights home is currently scheduled to be un-acquired by way of the courthouse steps in two weeks. And yes, Washington Mutual underwrote the loan for 1945 Franklin as it did for 869 Alvarado. We'll keep you plugged-in.