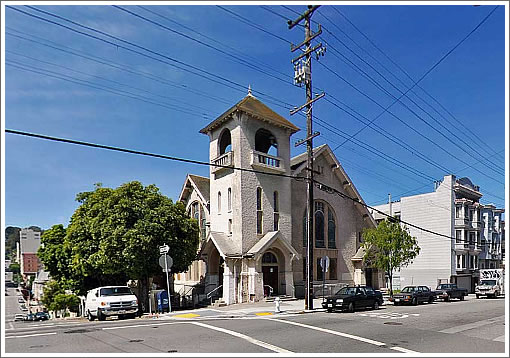 Despite a revised design and the Planning Department's recommendation that the project be approved in June, while San Francisco's Planning Commission voted 5-2 to certify the Environmental Impact Report necessary for a new six-story building at 1601 Larkin to rise, the Commission also passed a motion of intent to disapprove the Conditional Use Authorization (i.e., approval) for the proposed project by a vote of 6-1.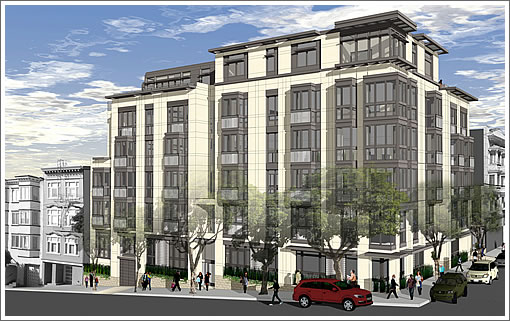 This afternoon, San Francisco's Planning Commission is scheduled to make good (or bad) on their intent to disapprove the proposed development of 1601 Larkin Street.
While the Planning Department had previously recommended approval of the project subject to modifications "to achieve greater compatibility with the scale and character of the neighborhood," the latest staff report recommends the proposed 1601 Larkin Street project be disapproved and the dilapidated First St. John's United Methodist Church be left in place at the corner of Larkin and Clay.
The Planning Department's basis for recommending disapproval of the project today:
1. The project would result in an abrupt change in scale compared with existing buildings in the vicinity.
2. The massing of the project is not sculpted to appropriately transition to adjacent lower building or to reflect the underlying topography.
3. The project does not sufficiently break the apparent scale of the building into discrete elements to a degree that justifies the requested bulk exceptions.
4. The project would result in the demolition of an historic resource.
5. The project not desirable for or compatible with the surrounding neighborhood.
The Planning Department's basis for recommending approval of the project in June:
1. The project adds 27 dwelling units to the Cityʹs housing stock in a location suitable for infill development.
2. The residents will add to the customer base of the area, supporting the economic viablity of the surrounding commercial establishments and will activate the sidewalks within the Polk Street, Pacific Avenue, and Van Ness Avenue commercial corridors.
3. Public transit and neighborhood‐serving commercial establishments are abundant in the area. Residents are able to walk or utilize transit to commute and satisfy convenience needs without reliance on the private automobile.
4. The project has been designed with well‐articulated facade treatments, sculpting of the upper stories, and a well‐defined pedestrian realm to reduce the apparent bulk of the development and to complement the pattern of existing development in the area.
5. The project is necessary and desirable, is compatible with the surrounding neighborhood, and would not be detrimental to persons or adjacent properties in the vicinity.
Yes, according to the Planning Department the project was "necessary and desirable" and "compatible with the surrounding neighborhood" in June, but today it's not.
As plugged-in people know, the proposed project was also dissapproved by the Planning Commission in 2010, prior its latest redesign.
∙ 1601 Larkin Street Design Sneak Peek Take Two (Or Three) [SocketSite]
∙ Praying For/From One Big Penthouse Atop 1601 Larkin As Proposed [SocketSite]
∙ 1601 Larkin Street Design Sneak Peek Take Three (Or Four) [SocketSite]
∙ Development Of 1601 Larkin Disapproved By Planning Commission [SocketSite]
∙ 1601 Larkin: Comments, Responses And Latest Renderings [SocketSite]