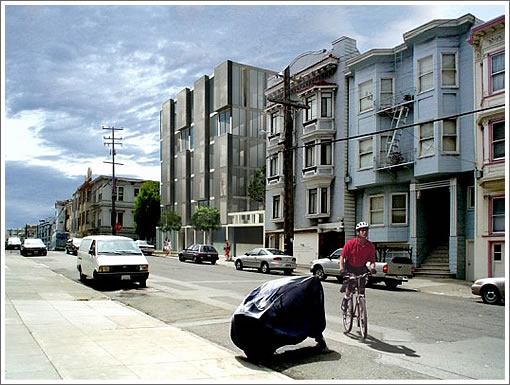 To quote Roseanne Roseannadanna Emily Litella…never mind. Apparently the Planning Department's just published compendium of comments and responses to the proposed 1601 Larkin project contains outdated renderings for the project. Whoops.
Ironically, the images had been added to the document in response to community comments that the most recent renderings had not been made available for review.
The renderings now above and below (not including the "alternative") are in fact the most current by way of Stanley Saitowitz | Natoma Architects. Cheers.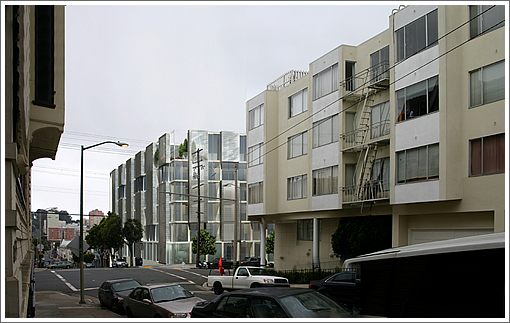 As proposed, the building would rise 63 feet and yield 27 units over 30 parking spaces.
The ground floor would have three residential units, the second floor would have seven residential units, and floors three and four would contain 12 units. The fifth floor would have four residential units and the sixth floor would be a penthouse. Of the total 27 units, there would be 1 junior one-bedroom unit, 1 one-bedroom unit, 4 one-bedroom-plus units, 20 two-bedroom units, and 1 three-bedroom unit (the penthouse).
The main entrance to the residences and the driveway to the ground-floor garage containing nine spaces would be from Larkin Street. Vehicular access to the below-grade parking garage containing 21 spaces would be from Clay Street.
Comments run the regular gamut of concerns regarding visual impact, views, parking, shadows, air quality and the likes. And yes, the birds:
We also remind you that small animals such as pigeons and other birds make their home in this area which would be significantly disrupted, if not destroyed, by this new structure.
Disrupting pigeons? We're not sure if that's more of an argument for rather than against.
UPDATE: Oh, and did we mention a onetime "alternative" design for the preservationists?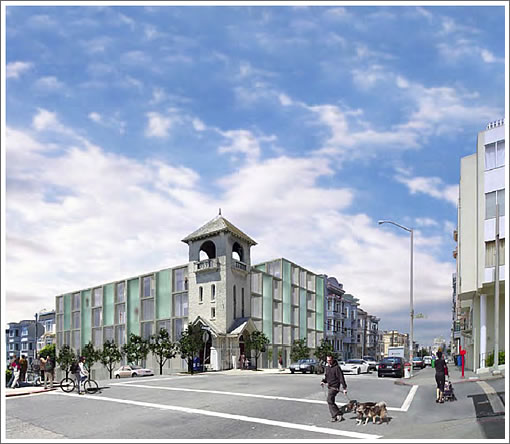 And no, that's no May Fools or photoshop savvy reader simply having a goof.
∙ 1601–1603 Larkin Street: Comments And Responses | EIR
∙ 1601 Larkin Reignites An Architects Versus Planning Design Debate [SocketSite]