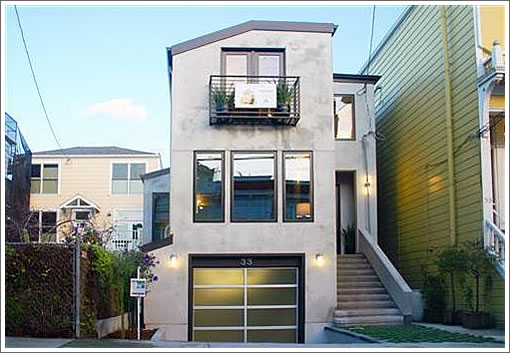 As we wrote in January:
Purchased by Mr. Muhawieh for $920,000 in 2007, as plugged-in people know, a 33 Prospect in progress was taken back by the bank and resold for $770,000 this past April.
Having since been redesigned and rebuilt as "a modern showcase for urban living," the now 2,770 square foot home is back on the market and asking $2,350,000.
Wood, stone, and a few odd modern showcase angles abound.
Officially "withdrawn" from the MLS in May when last listed for $2,149,000, it's a plugged-in reader that notes the sale of 33 Prosper closed escrow the next month with a recorded but unreported contract price of $2,040,000.
Once again, it's a violation of MLS member rules to fail to report the sale and selling price of a recently listed property, even if said listing has been withdrawn from the MLS (within three months of a sale we believe).
UPDATE: Within a few hours of our post, the July sale price for 33 Prosper was reported on the MLS. Cheers.
∙ A Rebuilt 33 Prosper Returns As A "Modern Showcase" [SocketSite]
∙ Two More Muhawieh Comps Of Yore Head For The Courthouse Steps [SocketSite]
∙ A Not So Prosperous At (And Under) Asking Sale For 33 Prosper [SocketSite]
∙ An Ironic Address For Another Ex-Muhawieh Property (33 Prosper) [SocketSite]
∙ The Unreported Sale Price For The Penthouse Atop One South Park [SocketSite]