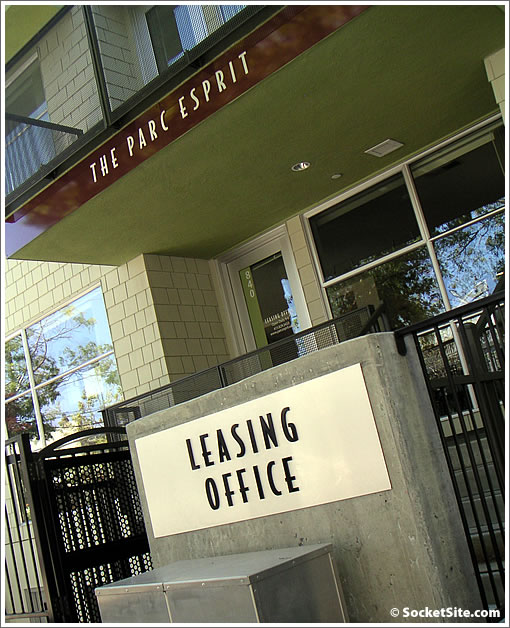 As plugged-in people know, in early 2010 the the sixty-seven (67) units formerly being sold as Esprit Park North were renamed "The Parc Esprit" and repositioned as rentals. As we first reported at the time:
Rents for the remaining one-bedrooms range from $2,475 to $2,950 while the two-bedrooms range from $3,050 to $4,000. Esprit Park originally hit the market in 2007 with one-bedrooms in the South Court priced from the "Upper $600,000's" and two-bedrooms from the "Mid $900,000's" (from $549,000 seven months later).
Leases currently run eleven months (think Esprit Park CC&R's) with expectations that the units will return to the for sale market in three to five years. And while the leases aren't being written with an option to buy, leaseholders do get a first right of refusal.
As a plugged-in resident tipster wrote last week:
The Parc Esprit in Potrero Hill is putting 1/4 of the north court units [back] on the market. They are currently being offered to tenants at a 7.5% discount…The rest of the north court will transfer from rentals to condos sometime in the future (probably dependent on how sales go with the current units). 16 one bedroom places will be priced between $570,000 and $610,000 and the 4 [two bedroom] penthouses will be priced at $980,000.
On Friday, two units at 850 Minnesota were listed for sale, a 835 square foot one-bedroom for $590,000 and a 1,586 square foot two-bedroom penthouse for $979,000.
∙ The Parc Esprit (840 Minnesota): 30 Percent Sold Leased [SocketSite]
∙ Sales Office For Esprit Park (888 Minnesota) Opens Tomorrow (10/5) [SocketSite]
∙ Reader's Reports: Homes On Esprit Park Now Starting From $549,000 [SocketSite]