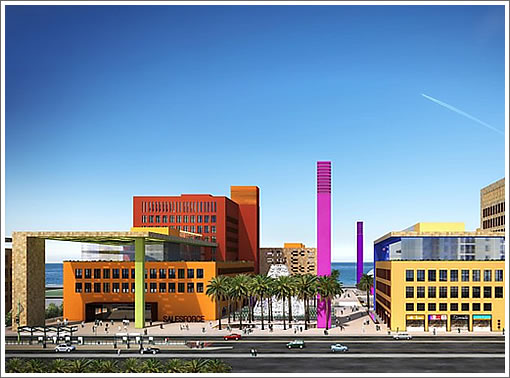 From John King with respect to Legorreta and Legoretta's colorful vision for Salesforce's 14-acre campus to be in Mission Bay:
The scheme that's evolved has a wider range of colors and window patterns than the firm's norm, and most building's would come wrapped in stone or terra cotta rather than stucco. They'd also include brash twists – a corner fractured by stepped-back terraces here, a stone-clad canopy perched on a 90-foot-high column there. A stack of meeting rooms at the southwest corner of the campus is wrapped in a mesh-like purple skin.
At least three of the 14 acres would be publicly accessible at all hours, centered on a broad plaza leading from Third Street to a planned bayside neighborhood park. The office buildings along Third Street would include shops, a child care center and restaurants.
And the key concept, an open campus that embraces the evolving neighborhood.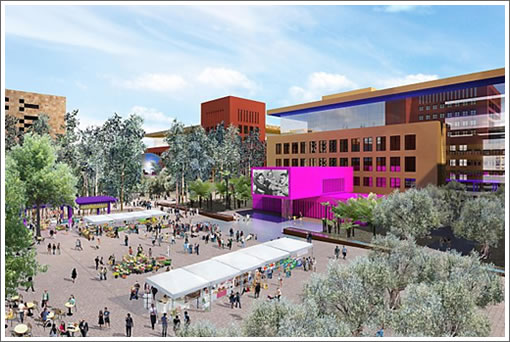 ∙ Salesforce plans a colorful jolt for Mission Bay [SFGate]
∙ Designs For Salesforce's Global Headquarters Complex in Mission Bay [SocketSite]
∙ Salesforce.com Acquires 14 Mission Bay Acres To Build 2 Million Feet [SocketSite]
∙ Mission Bay Neighborhood Block And Construction Watch [SocketSite]