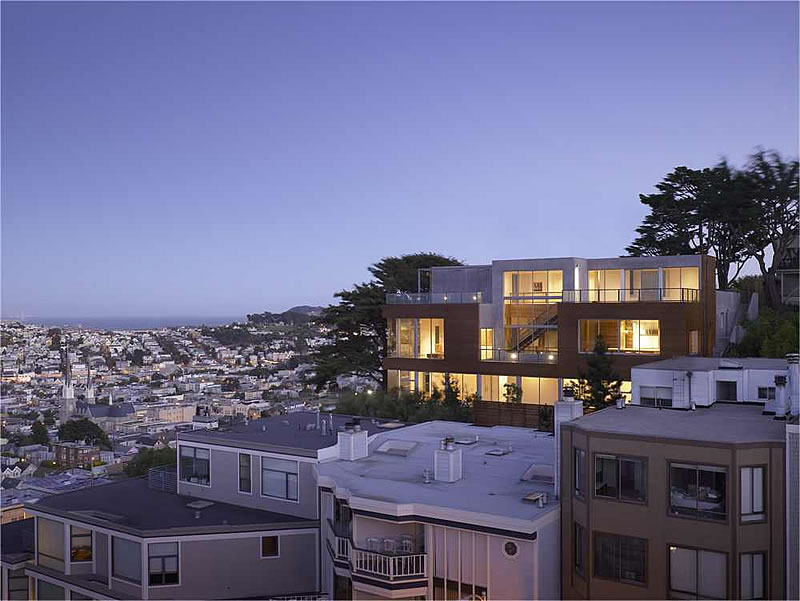 As we wrote about the Ogrydziak/Prillinger Architects designed "T House" at 526 Duncan back in 2006:
Ogrydziak/Prillinger Architects (OPA) identifies it as the "T House." The Noe Valley Voice calls it "The House That Google Bought." We simply call it our fantasy.

The T House is located at the "end of a cul-de-sac in the 500 block of Duncan Street near Newburg Street" in Noe Valley and "sits on the precipice of an oversized lot that provides panoramic, 270-degree views from Twin Peaks to downtown San Francisco to across the Bay."

Designed by Luke Ogrydziak and Zoe Prillinger, the three-story home offers 5,689 square feet of living space, five-bedrooms, three terraces, and a three-car garage. And [in October 2005] the T House sold for $5.3M ($50K below asking) to a former Google engineer (he paid cash). That's a lot of Google Ads.
And while it's not listed nor official inventory, as a plugged-in tipster reports, 526 Duncan has (or at least had…) quietly hit the market and is now being offered at $6,400,000.