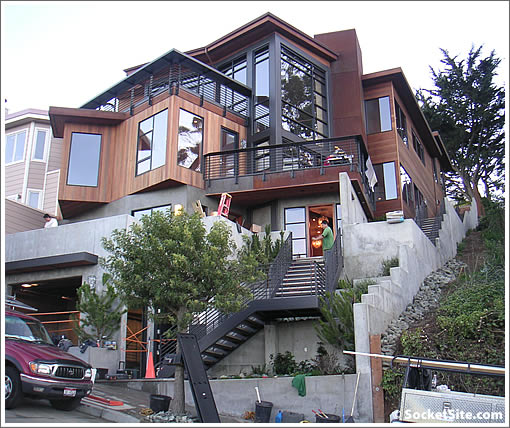 While the workers are still finishing up, the sale of the spec-tacular 625 Duncan closed escrow last Friday (11/7/08) with a reported contract price of $5,818,000 ($432,000 under asking).
Modern and masterful, 625 Duncan has been brilliantly executed to capture an enormous amount of space in an aesthetically pleasing and functional manner. A steel [cantilevered] entry staircase ascends through terraced [concrete] walls and gardens to the 4bd/4.5ba main house and 1bd/1ba apt below.
And as it's not a single family, the record seeking 3816 22nd Street still has a shot. We'll keep you posted. And of course, plugged-in.
UPDATE: The current record holding house: Ogrydziak/Prillinger Architects: The T House (purchased for $5.3M in 2005). And yes, just down the street.