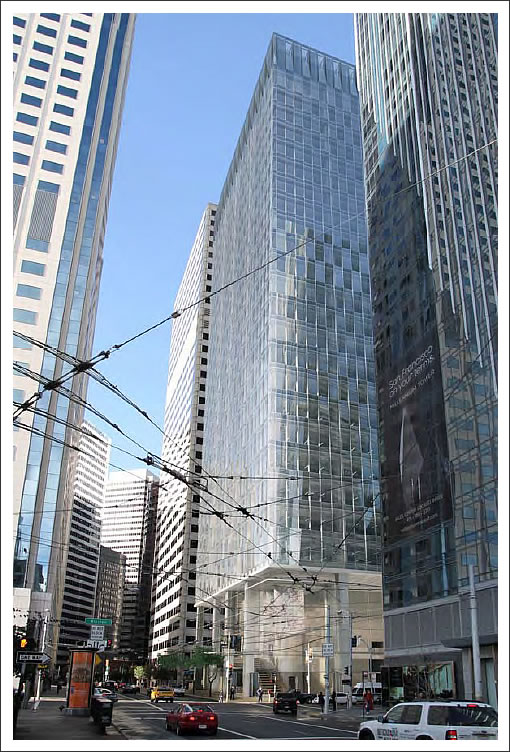 Front and center at tomorrow's Planning Commission meeting, the proposed 350-foot tower at 350 Mission, a 24-story building which would yield 340,000 square feet of office space, 1,000 square feet of retail, 23,500 square feet of subterranean parking, and a 12,700 square foot publicly-accessible atrium.
From the architects (SOM) with respect to the refined building design:
The entire office building at the corner of Fremont and Mission is cantilevered thirty feet in two directions. A fifty foot high by sixty foot long membrane of glass turns this corner and opens the great urban room to hundreds of thousands daily commuters and visitors arriving across the street when the Transbay Terminal is complete.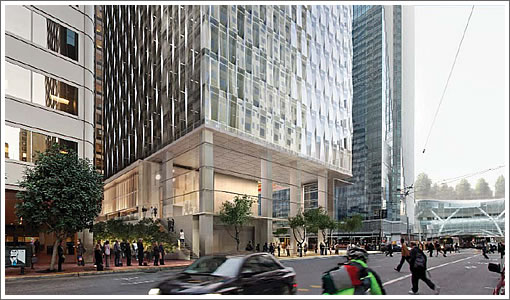 All barriers are removed between the social vibrancy of the urban room and the street through the use of ninety linear feet of sliding glass panels which literally open the building to the street, weather allowing, in San Francisco's mild climate.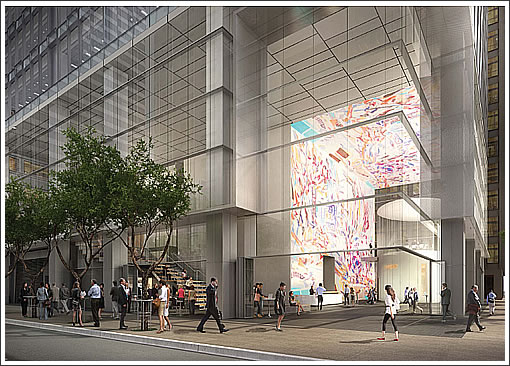 The urban living room is animated by a café, an amphitheater stair and two levels of seating for informal lunchtime dining and special events. This space is conceived as a highly kinetic environment, beginning with the movement of people as theatrical spectacle.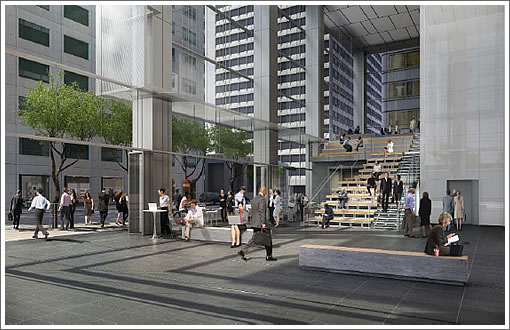 The idea of constant change continues to a digital canvas that wraps the lobby's core wall and ceiling. The Digital Canvas itself will become a platform whereby art and culture can be displayed on screen, and animated graphics informs the public of the building's sustainable features.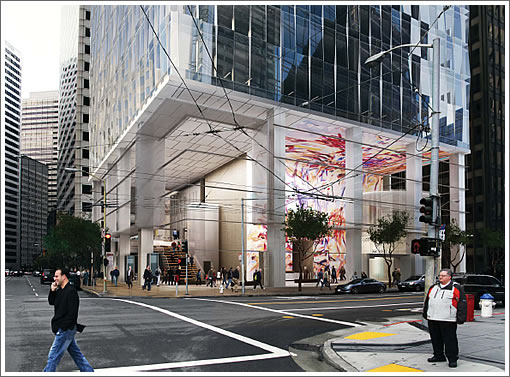 Wooden piles, salvaged from the site's earlier structure, will be refinished and used as benches within this space. These benches, internally powered and attached to narrow channels, will slowly inch across the floor Anchored at the living room's north and east corners, a coffee shop and sculptural retail pavilion will energize the building's ground level.
The retail pavilion, elliptical in shape, is defined by a structural sheath of translucent glass. Its upper level provides space for tenant conferences and private dining. A grand staircase of wood and metal provides space for informal lunchtime dining and connects the ground floor to an additional mezzanine for a restaurant that overlooks and links via an exterior stair to an adjacent plaza.
Construction of the new tower would cost an estimated $85 million and take 22 months.
∙ EIR Today, Heald Gone Tomorrow At 350 Mission As Proposed [SocketSite]
∙ 350 Mission Street Headed For Formal Review (EIR) [SocketSite]
∙ 350 Mission Street Scoop Redux: Building Website Live [SocketSite]
∙ Transbay Center Plans: Revised, Refined, And Unveiled Today [SocketSite]