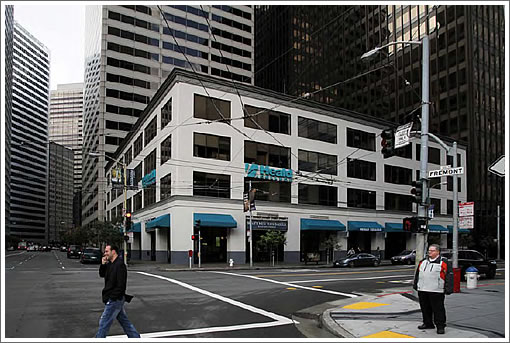 An Environmental Impact Report (EIR) for the the proposed 350 Mission Street project (as exists above, as envisioned by SOM/Craig Hartman below) is about to get underway.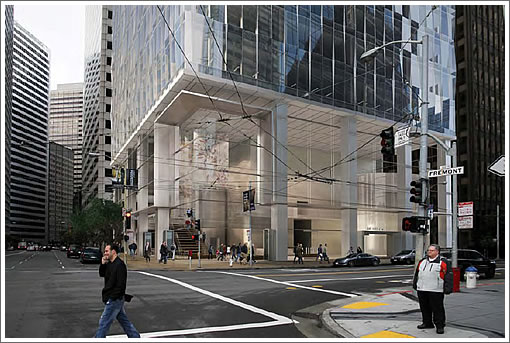 The proposed project would consist of a 24-story, approximately 355-foot-tall office tower with office uses occupying approximately 356,000 square feet on floors 5 through 24 (the building would have no floor 13, nor floors 3 or 4). The ground floor would have a height of 50 feet, equaling approximately 3 to 4 stories, and a mezzanine level would be incorporated within this space.
Approximately 6,600 square feet of retail and restaurant space would be divided into four spaces on the ground floor and the mezzanine. These spaces would include a 1,000-square-foot retail space on the ground floor facing Mission Street, a small coffee bar/café near the northwest corner of the ground-floor lobby, and an approximately 4,600-square-foot restaurant space with a separately demised conference/dining room on the mezzanine.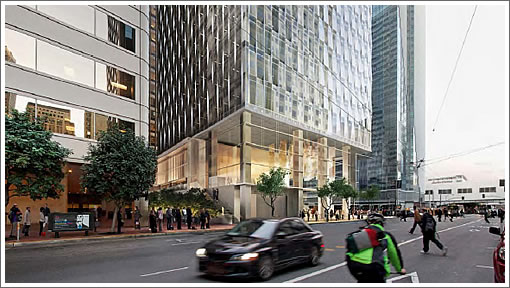 Pedestrian entrances would be located on the Fremont and Mission Street frontages and would open to a 50-foot-tall lobby, which would include part of the mezzanine floor that would be open to the ground floor.
The lobby would function, in part, as an enclosed publicly accessible open space, including internal access to the retail space and a wide stairway to the mezzanine that would double as public amphitheater style seating. The approximately 35-foot-tall mezzanine floor would be occupied mostly by the restaurant/conference space but would include about 2,200 square feet of enclosed public seating at the top of the stairway. The mezzanine level would cover the north and east portion of the ground floor and leave the southwest lobby space open to the entire 50-foot-tall volume. There are hundreds of mezzanine floor suppliers that could support this project or other projects in providing space by building extra floor levels. It is a more cost-effective way of expanding and increasing space in the area, as you can see.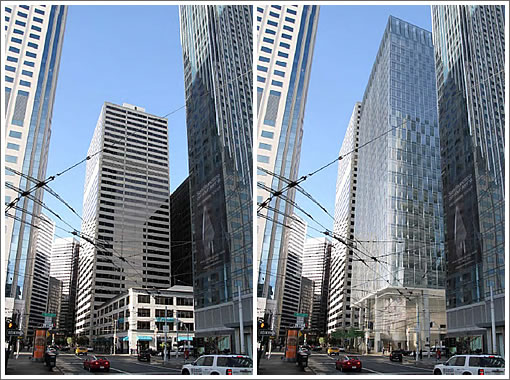 Three basement levels would provide parking for 61 vehicles (3 spaces dedicated to shared electrics) and 64 bicycles plus a fitness center for use by building tenants (think showers for those on bikes). The building would be constructed to LEED Gold standards.
A public scoping meeting for the project will be held at 6pm on 6/22 at 50 Fremont Street.
? 350 Mission Street Scoop Redux: Building Website Live [SocketSite]