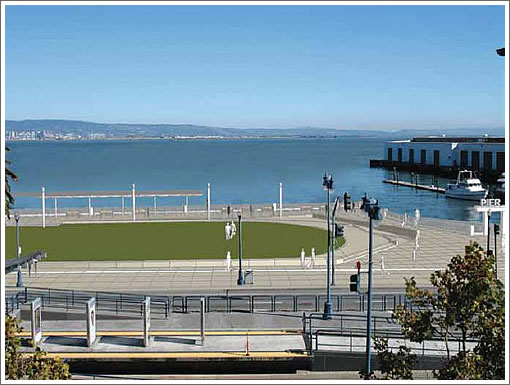 As proposed, the "Brannan Street Wharf" project will demolish the existing Pier 36 and marginal wharf at the site, and construct a new 57,000 square foot public open space in their place. From the project's Draft Environmental Impact Report (EIR):
The proposed Brannan Street Wharf would consist of a 26,000 sq.ft. lawn, shade structure, tables, chairs and benches, litter receptacles, drinking fountain, lighting, space for public art installations, and a 2,000 sq.ft. small craft float with accessible gangway.
Brannan Street Wharf would be wedge-shaped, generally oriented in a north-south configuration, connecting alongside The Embarcadero Promenade. The north end of the park would begin south of Pier 30-32, extending south for about 830 feet to a point south of Pier 36. The park would be approximately 10 feet wide at its narrowest point at the north end, widening to approximately 140 feet at the south end.
The new small craft float would be approximately 30 feet by 68 feet with a low edge suitable for small human powered craft such as kayaks and row boats, and which complies with Americans with Disability Act (ADA) requirements and would connect the float to the wharf. The lawn would primarily be flat with the lawn laid in a raised planter about 18 inches in height, and would accommodate a variety of passive recreation uses.
Project construction will cost an estimated estimated $25 million and take approximately 21 months. The U.S. Army Corps of Engineers has received federal funding for the demolition of Pier 36 and will most likely take the lead for that component of the project.
As the aforementioned Pier 36 and rendered outlook above currently appears: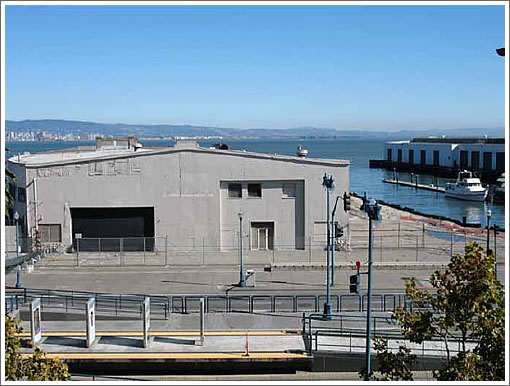 ∙ From Piers To Park And The Brannan Street Wharf By 2012 [SocketSite]
∙ Brannan Street Wharf: Draft Environmental Impact Report [sfplanning.org]