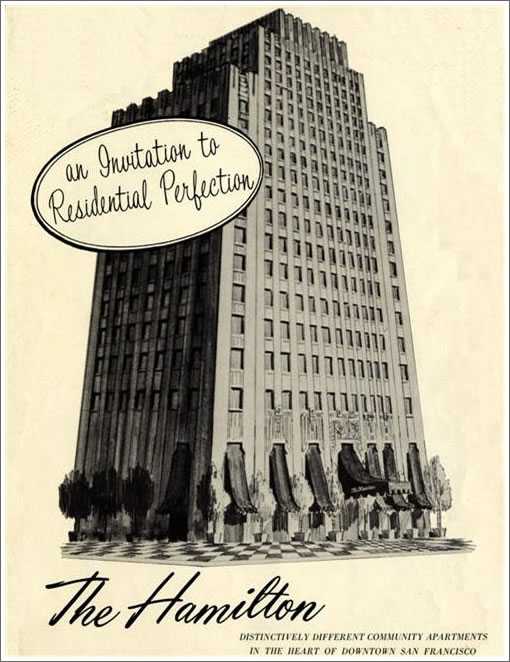 Built as a hotel in 1929, converted to condominiums in 1962, and better known for its studios and one-bedrooms, the 3,879 square foot penthouse (#2101) atop The Hamilton (631 O'Farrell) has hit the market asking $4,500,000.
A bit of Hamilton history with respect to how the penthouse came to be:
A wealthy heiress by the name of Marcia McDonald created her fantasy apartment and spared no expense creating this lavish penthouse. As an early buyer, she combined four proposed units on the top floor into one large full-floor unit with its own private elevator access.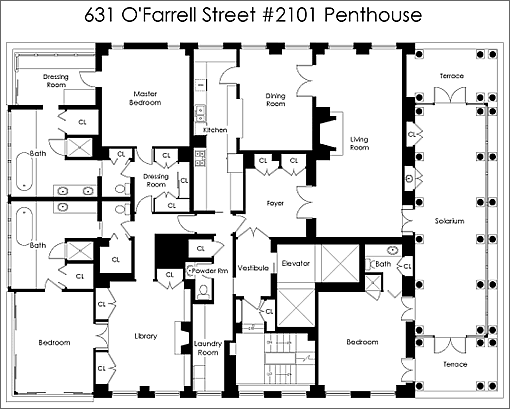 She also expanded the unit outward onto the east and west terraces with a number of non-Art Deco appendages, the grandest being a full-length glass barrel-vaulted solarium held up by imported Greek-style columns. This amazing room when illuminated becomes a beacon in this part of the city. She also added hundreds of thousands of dollars in elaborate finishes.
She was not able to finish the unit in her lifetime and never lived there. When her contractor told her she would have to spend another $500,000, she shut the doors and never returned, instead she spent her time in two apartments on the 15th floor…The spectacular unit was finished after her death [four years later] largely according to her original vision and it includes a 360 degree vista of San Francisco and all of it's major landmarks.
At the other end of the building's spectrum, the 520 square foot 631 O'Farrell #906 has been asking $275,000 since October 23, down from $299,000 in August.