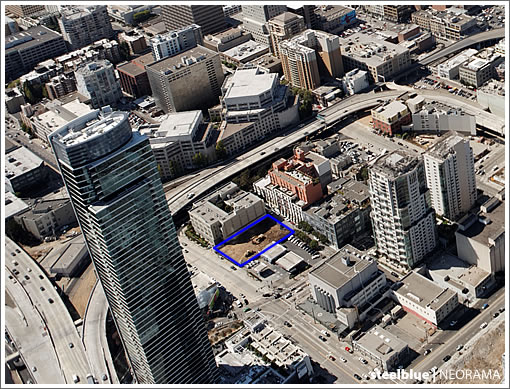 Plugged-in people knew Turnberry was quietly shopping their 45 Lansing lot. Now J.K. Dineen reports that they have stopped shopping, have asked for a refund, and are headed home:
Rincon Hill developer Turnberry Associates has cancelled its a 40-story deluxe condo tower at 45 Lansing St., and asked the city to refund an $8.4 million affordable housing fee it paid when the building permit application was filed in 2007.

In a letter dated May 4, land use attorney Andrew Junious said the building permit for the 227-unit tower "will be withdrawn immediately by the project sponsor."

The cancellation is a significant blow to the future of highrise development in Rincon Hill and other downtown neighborhoods. Turnberry bought the property in September, 2006, near the height of the market, paying $30 million, or $130,000 per buildable unit.
According to Assistant Planning Director Larry Badiner, Turnberry is entitled to a refund of the fee which "went to the Mayor's Office On Housing for the purpose of funding affordable housing projects."
And as we wrote last month:
The implications: likely no new building at 45 Lansing for 5-10 years, and extremely low odds that once developed it will be the uberluxury product Turnberry (and neighbors) had envisioned.
UPDATE (5/8): An update with regard to the refund from J.K. Dineen:
Douglas Shoemaker, director of the Mayor's Office On Housing, confirmed that the city would refund the $8.4 million fee.

"It's a substantial loss for the city, but we don't spend in lieu fees until a project begins constriction, so we have the money available," said Shoemaker.
And once again, it's not the fee (or "Daly") that killed this project but rather a substantially weaker market than when the $240 million development was first proposed.