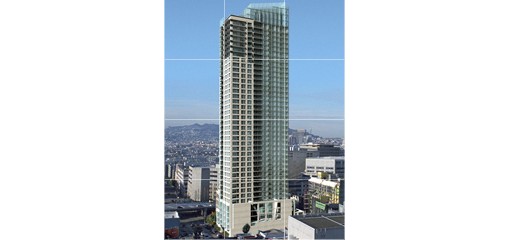 As first reported by J.K. Dineen at the San Francisco Business Times, 45 Lansing, a parcel entitled for 305 condominiums and across the street from 50 Lansing (cater-cornered from One Rincon Hill), was purchased by Turnberry Associates with sights set on developing a 40-story tower.
Turnberry President Bruce Weiner said the project . . . would be the most upscale development the new neighborhood has seen, with "exotic" marble baths, Italian Snaidero cabinetry, Gaggenau cooking appliances, Jacuzzi hydrotherapy tubs with built-in TVs, individual security systems, and 12-foot penthouse ceilings. He said prices have not been set, but compared it to the Turnberry Ocean Colony project in South Florida, which is priced between $1.8 and $4 million per unit.
And yes, the 305 condominiums have been added to the extended pipeline in our Complete Inventory Index (Cii).