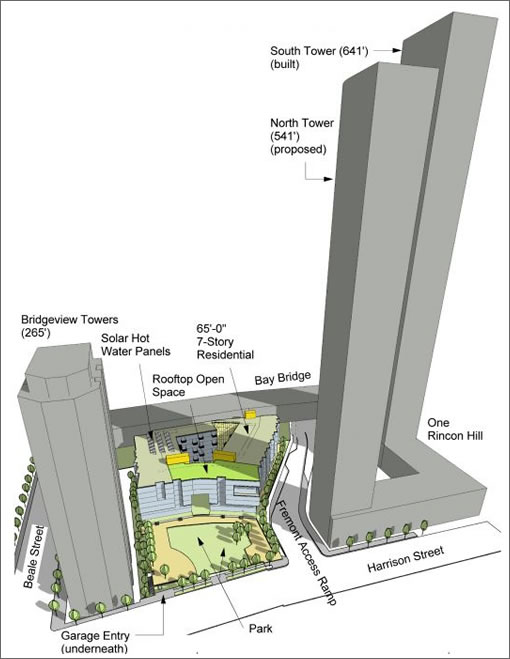 A plugged-in reader's (slightly edited) 12 notes on Emerald Fund's proposal to develop 333 Harrison Street which has been approved by San Francisco's Planning Commission:
1. The new building will be sandwiched between Bridgeview and One Rincon.
2. Some Bridgeview owners will be adversely affected. The lower level units will lose their views as the new building will be 40 feet away.
3. The building will house rental units.
4. Rents will be expensive: from $ 3,000 to $ 3,500 per month.
5. Approximately [7-stories] high.
6. The units are small, mostly one bedroom units averaging 500 square ft.
7. They will have a great public park, looks like a courtyard.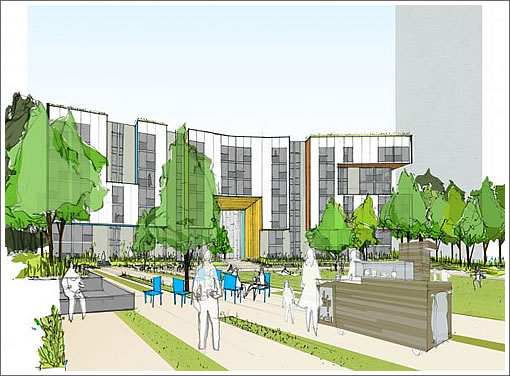 8. It will take approximately 2 years to complete.
9. One Rincon Hill is not at all affected.
10. The Metropolitan will not be affected.
11. Another nice perk: they will have a dog run (Park South below).
12. They have plans to convert them into condos within 15-20 years (that is what they told us). But, it is most likely much sooner than that time frame.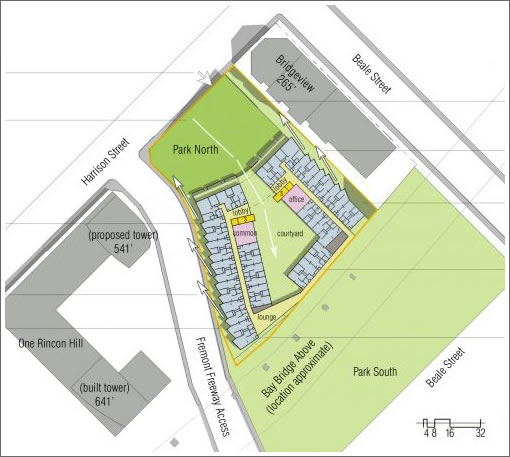 Design (and all images) by David Baker + Partners Architects.
UPDATE: A bit of clarification on those parks from another reader:
Emerald Fund is not building either park, especially not the dog run at Bryant/Beale. Caltrans is building that one on their own land. Caltrans would only agree to do that if they could sell their Fremont/Harrison parcel for a decent amount of dough, and they will use some of that money for Bryant/Beale.
Cheers.
∙ 685 Units Looking Beyond The Current San Francisco Downturn [SocketSite]
∙ 333 Harrison Street Design: Slide Show [dbarchitect.com]