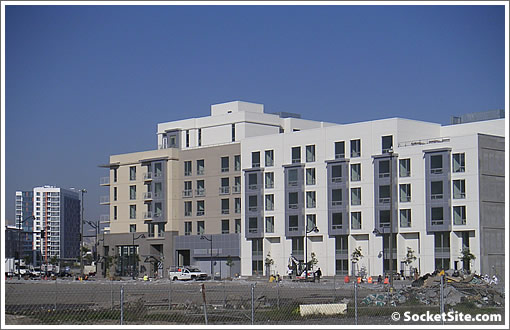 A plugged-in reader reports on Strata at Mission Bay and its environs:
I did a hard hat tour of Strata SF this weekend. I think the building itself is ok. A little bland but I have seen worse. The interior halls look nice….well [lit] and a good color scheme. The views in the distance are nice, the views of the surrounding lots (aka lots of dirt and construction areas) not as nice. First move ins are scheduled for March 1st but they have a long way to go in 30 days to make this a reality. 4th street should be open to traffic in 6 months (says the sales center). Rents seemed high for this undeveloped neighborhood (1/1 650 sqft starting for around $2,300).
I will say looking back at north mission bay from the Strata I was impressed with the look of that neighborhood. The new avalon building and arterra behind the smaller developments closer to the canal really worked well together. At least from that vantage point I think they have done a superb job of building a nice looking community.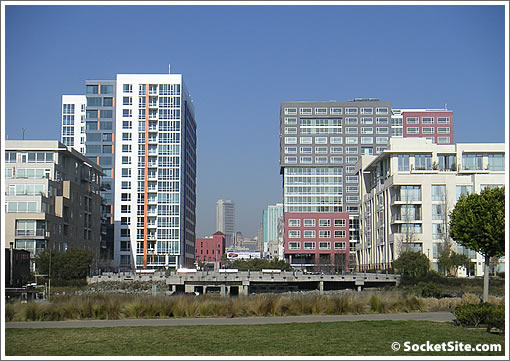 With respect to area rents, over on the other side of Mission Creek Edgewater Apartments is advertising a 535 square foot one-bedroom for $2,155 per month, Avalon at Mission Bay has a 700 square foot one-bedroom for $2,160 (previously from $2,200), and over at One Rincon Hill there's a 710 square foot one-bedroom on the 19th floor asking $2,400.
UPDATE: A plugged-in reader catches the One Rincon Hill fine print ($2,400 is the three-month "teaser" rate, asking $2,650 thereafter), but we will note a few other One Rincon Hill one-bedrooms asking $2,600 and at least one that includes parking.
∙ Coming Soon: "Strata At Mission Bay" (A.K.A. 555 Mission Rock) [SocketSite]
∙ An Overview Of Mission Bay [SocketSite]
∙ Why You Should Care About All Those New Developments (Part I) [SocketSite]
∙ Avalon At Mission Bay Phase III (240 Berry): True To Design [SocketSite]
∙ More Mission Bay Stripping: Arterra And Mission Creek Sports Courts [SocketSite]
∙ Edgewater Apartments (355 Berry): An Overview And Pricing [SocketSite]
∙ $2400 / 1br – 1Ba Luxury Condo at One Rincon w/ Views [Craigslist]