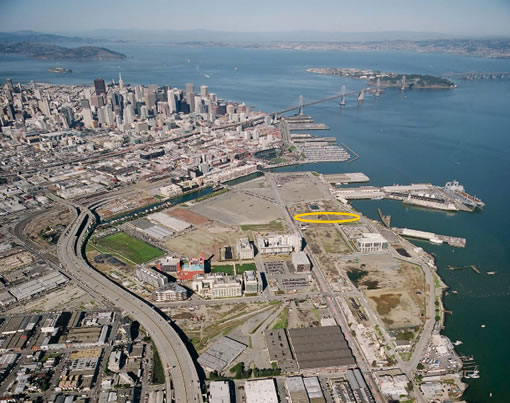 Realtor Malcolm Kaufman's latest Pulse of the Market focuses on South Mission Bay. And two paragraphs in particular caught our attention:
While I have had a casual interest in the unfolding Mission Bay development, my interest became more focused because of clients who currently live in a single-family home in Noe Valley. She is an artist, he a serial-entrepreneur, and while they like and enjoy Noe, they would like warmer weather and a simplified life-style, one that includes updated construction/amenities and the concomitant ease of condominium living – a story that is becoming more familiar each year.
We have talked on an off for a year about their moving to one of buildings north of Mission Creek. It seems that there is a different life-style being offered by the Radiance [Editor's note: Location marked by orange ellipse above.] and other housing opportunities in the southern portion of Mission Bay. While the area is unfolding as less urban than the developments of South Beach, Rincon Hill and Transbay, it is still quite close to the financial district. . . . One of the drawbacks is that there are very limited neighborhood amenities at this time [Editor's note: Again, see picture above.]. It is going to take awhile until 4th Street becomes the Chestnut Street of Mission Bay – that's the plan.
A couple living in an established neighborhood (not to mention a single-family home) are considering a move to Mission Bay (not to mention a condominium)? Inconceivable!
And yes, it is but a single anecdote. But as Malcolm also notes a few paragraphs later, "Transaction volume [in San Francisco] is down again in the first quarter of 2007: off almost 10% for single-family homes and down 20% for condominiums (582 for the first 2006 quarter versus 465 for Q 1 2007). While the volume of condominium re-sales is down dramatically, a lot of the buyer demand is being absorbed by new product sales in the south of Market neighborhoods…"
And you wonder why we spend so much of our time tracking all these new developments.
∙ Malcolm Kaufman's Pulse of the Market [sfpulseofthemarket.com]
∙ An Overview Of Mission Bay [SocketSite]
∙ SocketSite Reader's Report: Living In North Mission Bay (For Real) [SocketSite]
∙ Radiance At Mission Bay: Sales Office Open [SocketSite]
∙ SocketSite's Complete Inventory Index (CII): Q1 2007 [SocketSite]