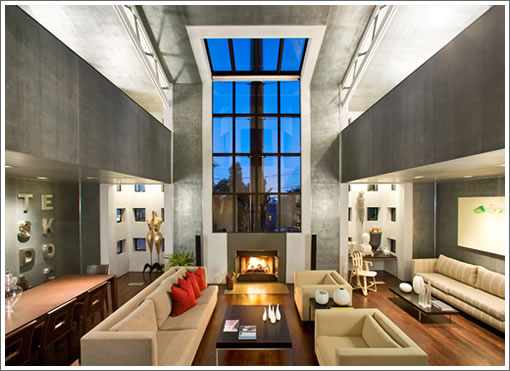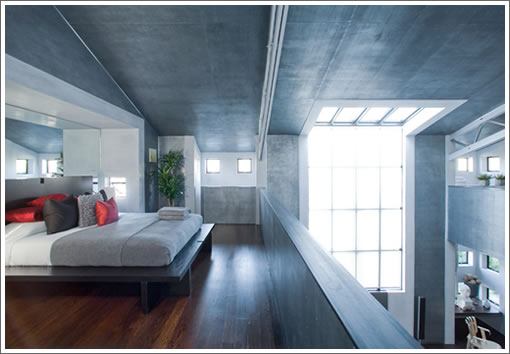 So here's the inside scoop on 610 Rhode Island. Designed by Daniel Solomon, the home was built in 1989 for Kronos Quartet cellist Joan Jeanrenaud (one of the bedrooms was originally her rehearsal studio) and her husband, recording artist and producer Pat Gleeson (one of the bedrooms was originally his recording studio). The current owners/sellers (no, not Joan and Pat) have moved next door.
Acoustical perfection (credit John Storyk) and natural light are central themes of the house with perforated galvanized steel (backed by wood) on the walls which absorbs sound (think big party with little din) and bounces light throughout the great room and loft. And while the zinc-clad kitchen and bathroom complement the design, we'd probably budget for replacing it with something a bit more user friendly.
In terms of the exterior, we're simply going to quote the New York Times (circa 1989):
Clad in glistening black shingles from garage to rooftop, the house, completed this year, has elicited comments like "a blight on the landscape," "the worst thing that's ever happened to this neighborhood" and "a disgrace."

These criticisms do not faze the couple. In fact, Mr. Gleeson keeps a file of them on his computer.

"People never like change; they don't like anything new," Ms. Jeanrenaud said, speaking from years of experience [with the Kronos Quartet].
And on a final note (yes, intended), the budget for "land, building and furnishings" in 1989: $950,000.
[Full Disclosure: The listing agent for 610 Rhode Island is a sponsor of SocketSite. And yes, we would have featured it regardless.]
UPDATE (9/7): Closed escrow on 8/30/07 for $2,551,000 (10.9% over asking).
∙ Listing: 610 Rhode Island (3/1.5) – $2,300,000 [KronosHouse.com]