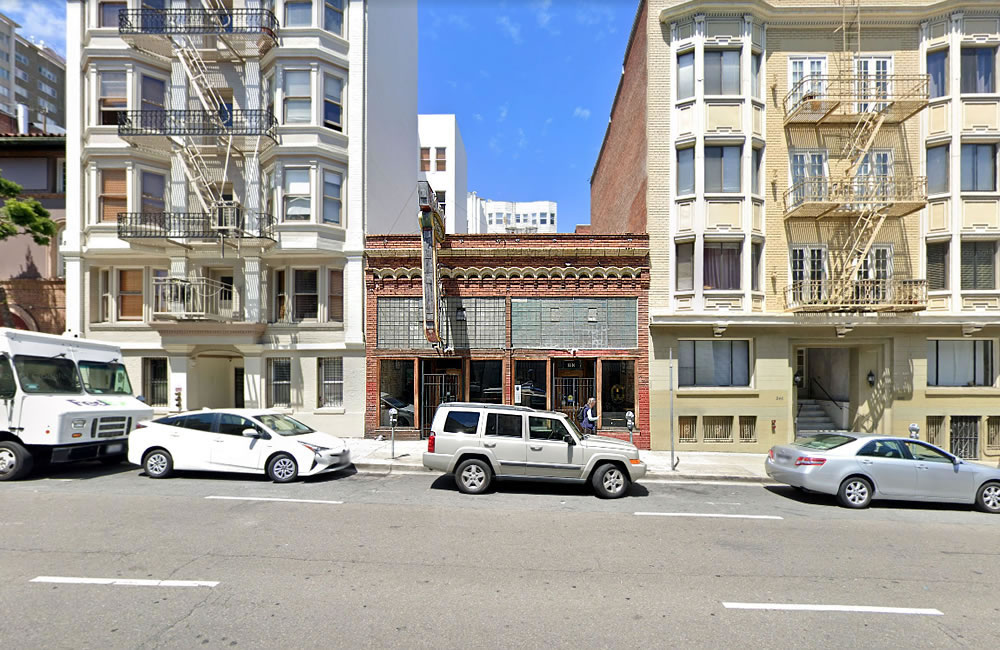 Having undergone another round of refinements, as newly rendered by Leavitt Architecture below, the plans for a five floor addition atop the historic Key Klub building at 850 Bush Street, which is located within the Lower Nob Hill National Register Historic District and was most recently home to Hopwater Distribution, has been recommended for approval by San Francisco's Planning Department Staff.
From Planning with respect to the proposed addition which would rise up to 65 feet in height and yield 21 residential condos, 14 of which would now be two-bedrooms, over a new ground floor restaurant/retail space, with a storage room for 21 bikes, a rooftop terrace for residents, and a setback third floor and gap between the existing building's façade and new fourth floor but no setback above:
The Project's horizontal and vertical addition will ensure compatibility within the District by respectfully maintaining the established zero lot line setback at the upper levels of the proposed addition, reinforcing the strong existing street wall along Bush Street. At the third floor, directly above the existing building, there will be a setback of ten feet in order to distinguish the new addition from the existing, historic structure below. The new addition will incorporate, in a contemporary interpretation, many of the typologies found in the immediate area, both at an overall and fine-grained scale.

The general massing of the façade will include a pair of bay windows, similar in width and projection to neighboring bays. The bays will include contextual, vertically ribbed spandrel panels and projecting pilasters. A visually prominent roof projection will evoke the projecting cornices and regularized brackets typical of the block, as will the building's horizontally modulated ceramic coated tile.

Overall, the Project's Site Plan emulates the long and narrow configuration of the Site—and similar shaped lots in the vicinity—with full-lot width development at the front and rear of the lot, and ample-sized light wells placed along the interior lot lines at the center of the Site, providing access to light and air for the proposed dwelling units on the Site, and the existing dwelling units located on the adjacent lots.
Keep in mind that it was the lack of a substantial setback and compatibility with the Historic District to which Planning had originally objected back in 2016, having gone as far as to raise the specter of requesting "a setback of up to 35′ from the front property line." We'll keep you posted and plugged-in.