The plans for redeveloping the iconic I. Magnin/Macy's Building on the southwest corner of Geary and Stockton, across from Union Square, have been refined and newly rendered by Handel Architects.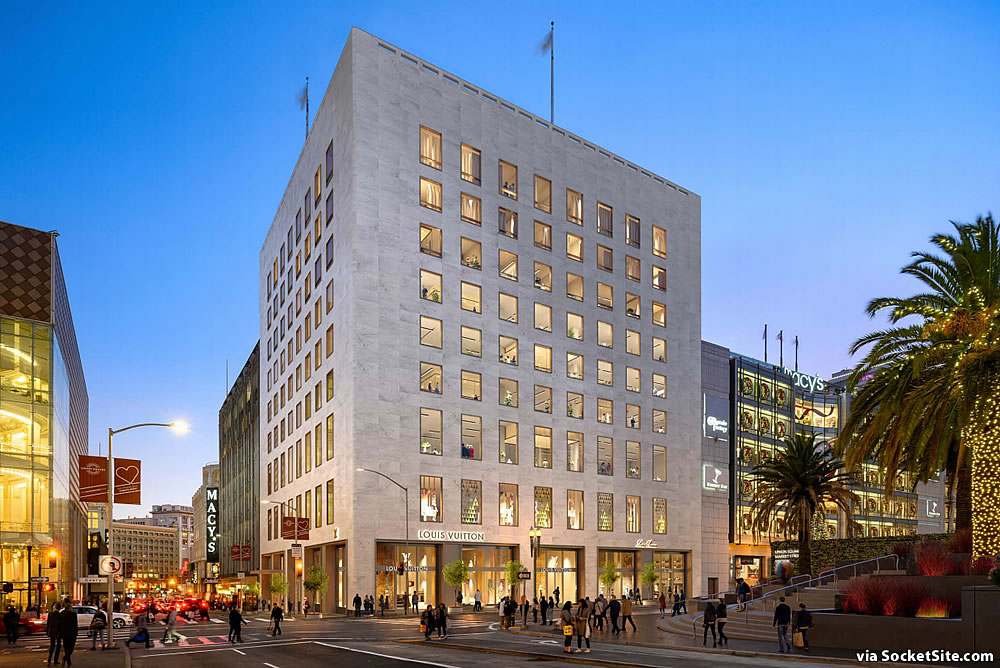 While the top three floors of the building are still envisioned to be converted into 21 high-end condos, the original plans for a new crown atop the building, with rooftop open space for the residences and a couple of penthouse units and a new column of corner windows have been eliminated from the development as proposed.
The building's existing parapet and marble façade are now expected to be maintained, albeit with some expanded window openings. And behind the prominent parapet, a 5,300-square-foot terrace for the project's proposed 91,000 square feet of office space would be constructed, with a penthouse-level office space atop which a private rooftop terrace for the condos would be built.
The redevelopment still includes three floors and a basement level of renovated retail space. And while the remaining character-defining feature of the building's original lavish interior, a heavily ornamented powder room designed by Timothy Pflueger on the building's sixth floor, is to be demised, the proposed plans now call for salvaging and relocating the washroom area of the powder room to a publicly accessible floor.
And with Sand Hill Property Company having submitted its formal application to proceed with the redevelopment as refined and positioned as "a balance between our modern needs for finding new ways to live, work and shop and our eternal need to embrace our history through preservation," San Francisco's Architectural Review Committee (ARC) is slated to weigh in next week.
We'll keep you posted and plugged-in.