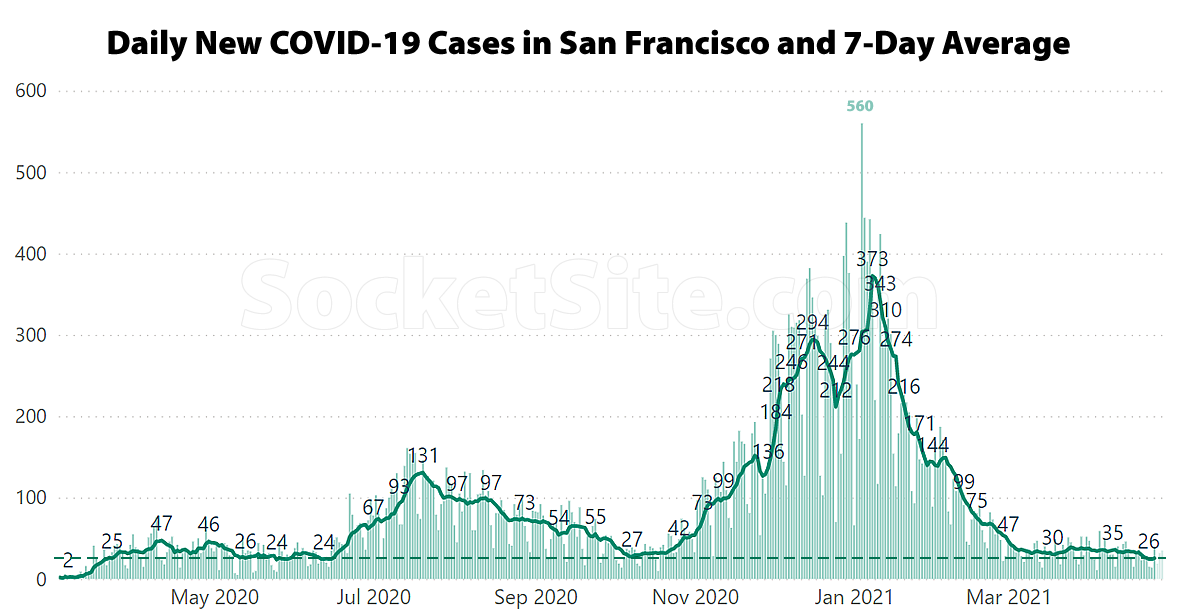 With the COVID-19 case rate for San Francisco having dropped to an average of under 30 new cases per day, or under 3 new cases per 100,000 residents, and the testing positivity rate having inched back down to 0.6 percent, the assessed risk level for San Francisco County has just been lowered to the Minimal/"Yellow" tier per the State's Blueprint for a Safer Economy while the risk level for seven of the other eight Bay Area counties remains Moderate ("Orange") and Solano is still in the "Red" (Substantial).
As such, indoor bars, breweries and wineries in San Francisco will be able to open up to 25 percent of their capacities, with a maximum of 100 people and everyone seated, as of Thursday, May 6.
In addition, saunas, steam rooms and indoor hot tubs facilities will be allowed to reopen at up to 25 percent capacity; still shuttered indoor entertainment facilities, including skating rinks, arcades, and playgrounds, will be allowed to open with 50 percent capacity limits in place and no vaccination or testing requirements for facilities that have already been allowed to reopen; buffets and self-serve food bars can re-open for both takeaway and on-site consumption, with indoor dining guidelines in place; and outdoor community sporting events will be able to resume, with limits on the number of participants and other restrictions, including proof of vaccination or a negative COVID test.
Capacity limits for businesses and activities that have already reopened or been allowed are being increased as well, including 50 percent capacity limits for offices (not counting fully vaccinated personnel), indoor gyms and venues.
But with respect to allowing real estate "Open Houses" and unrestricted showings to resume, the existing regulations have yet to be updated and no official announcement has been made.  We'll keep you posted and plugged-in.
UPDATE (5/5): From the Department of Public Health with respect to the updated Face Covering Order in San Francisco, which is now in effect:
To help secure what gains we have made against this disease and return to increasing personal interactions with others and fully reopen businesses and our schools, we must maintain our commitment to wearing Face Coverings in higher risk settings until the pandemic is over while recognizing that lower rates of infection and high rates of vaccination are making many settings safer. In these important ways and others, wearing a Face Covering is both an act of altruism and self-interest. By doing so, we not only protect our fellow community members, but ultimately ourselves and our loved ones, especially those who remain unvaccinated and thus vulnerable due to age or health conditions.

In sum, going forward and for as long as this Order remains in effect as needed to address the pandemic, and unless a specific exception set forth in this Order applies, Face Coverings are no longer required to be worn in many settings outdoors as follows:

1. For people who are fully vaccinated (meaning two weeks after their final dose of the vaccine), wearing a Face Covering is generally not mandated outdoors. For all others (partially vaccinated or unvaccinated people), a Face Covering must be worn outdoors when they cannot maintain physical separation from others, and this Order strongly recommends maintaining at least six feet distance. For both groups, a Face Covering must be worn outdoors when another requirement mandates. And for this requirement, passing by someone briefly, such as when walking, running, or riding a bike, does not require putting on a Face Covering.

2. Face Coverings are required for vaccinated and unvaccinated people in large crowded situations, such as live performances, parades, fairs, festivals, sports events, or other similar settings. For any outdoor event or setting that includes 300 or more people, a Face Covering must be worn by everyone regardless of whether distancing is maintained. Removal of a Face Covering is allowed in these settings where a Health Officer order or directive specifically provides for it, such as while following the rules for eating at a large sporting event.

3. Even if people are going to be outside in an uncrowded setting, everyone should keep a Face Covering on-hand to have one ready to put on, such as when they need to go indoors outside their Residence, where Face Coverings are still generally required to be worn.

• Face Coverings are required while waiting at public transit stops and while on public transit (as required by Federal law).

• Face Coverings are required in most indoor settings other than when at home—such as when shopping, when working indoors near others, when gathering with others indoors, or when engaging in indoor activities—unless there is an exception that applies. Setting-based exceptions include: indoor dining (consistent with associated rules), personal services (when removal is brief and required for the service, consistent with associated rules), and small gatherings with fully-vaccinated people or a mix of fully-vaccinated and low risk unvaccinated people. There are other exceptions listed in this Order and in other Health Officer orders and directives.

• Everyone must wear a Face Covering when in shared areas of buildings or spaces where other may frequently enter including lobbies, common rooms, hallways, laundry areas, food preparation spaces, elevators and bathrooms.

• Personnel who interact with the public must wear a Face Covering while doing so to protect themselves. And Personnel must also wear one as required by industry standards, such as Cal/OSHA rules.
UPDATE (5/6): While "open houses" remain disallowed in San Francisco, agents can now show homes by appointment, versus virtually, and without limits as to the number of people at the showing or any prohibitions on showing properties that are occupied. But everyone "must wear face coverings and maintain distance" and agents should open windows and doors for airflow.
And to answer a reader's question, "nightclubs" must remain closed unless operating as a bar, with a maximum of 100 people, up to 25 percent of capacity, and everyone seated, as outlined above (and expected below).
UPDATE (6/15): San Francisco Reopened, Unrestricted Open Houses (And Clubbing) Allowed