The draft plans for the redevelopment of the southern third of the shuttered Temporary Terminal Site, a nearly 43,000-square-foot block bounded by a future extension of Clementina Street to the north, Main Street to the east, Folsom Street to the south, and Beale Street to the west, have been drafted by Mercy Housing and the Chinatown Community Development Center which have been awarded the rights to the project.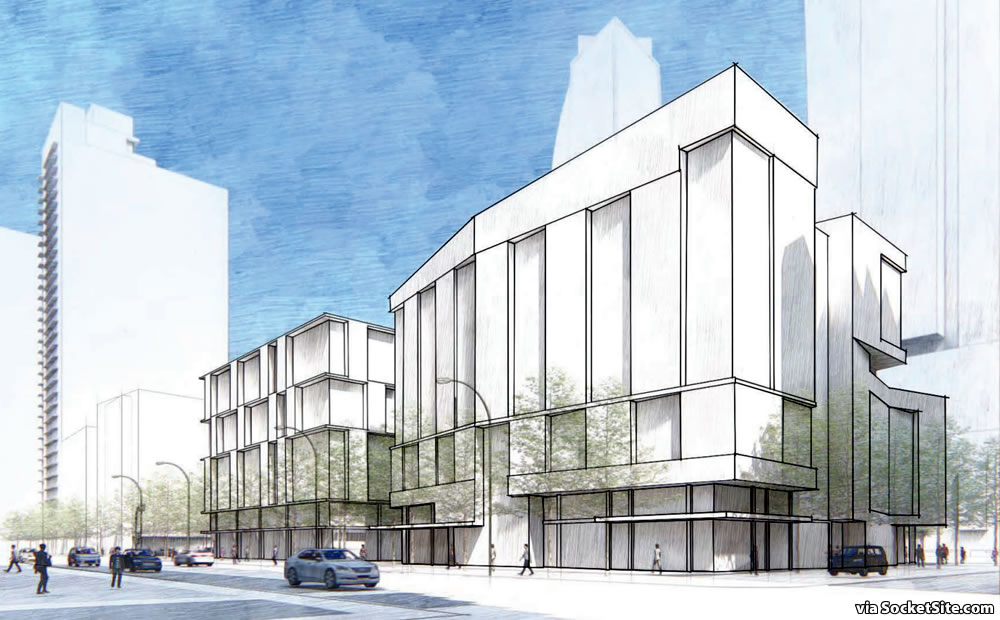 The proposed approach includes the development of two 9-story buildings, a 101-unit building on the eastern half of the site for low-income and formerly homeless families with household incomes of between 20 and 80 percent of the Area Median and a 153-unit building on the western half of the site for seniors making between 25 and 80 percent of the Area Median Income (AMI), with a 6,000-square-foot child care center, around 6,000 square feet of ground floor retail space, a mid-block walk and open spaces between the two buildings and no off-street parking for any cars.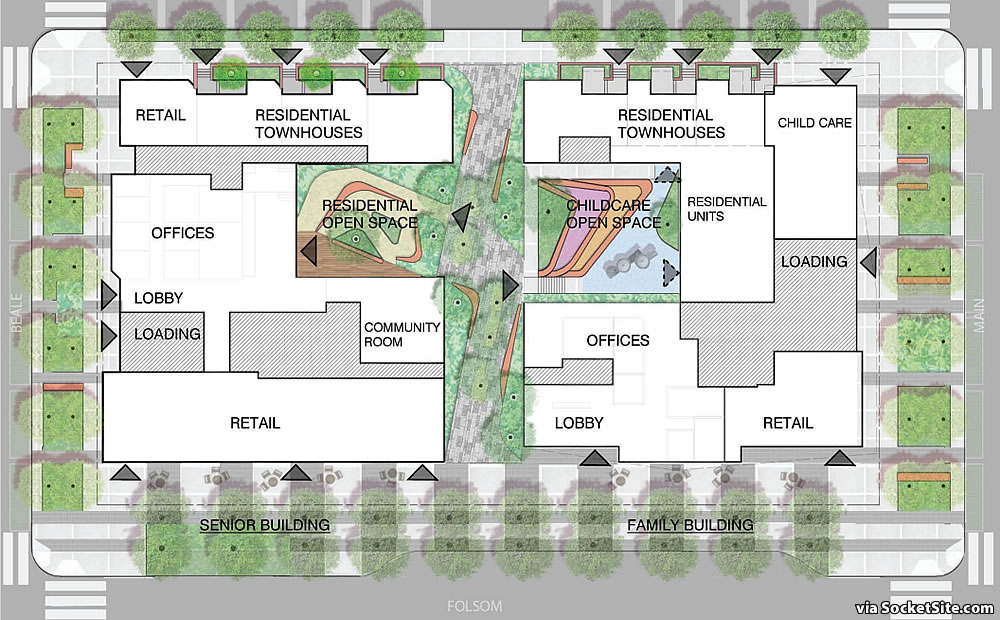 The conceptual design for the two buildings will be detailed and refined by Kennerly Architecture and Planning and Mithun | Solomon over the next couple of quarters and should be ready for approval by the end of the year, with permitting and funding applications expected to be submitted next year (2022) and construction now expected to commence in "late 2023" and be completed in "late 2025."
And yes, a potential increase in the proposed height for the family building to rise on the eastern half of the site, which is already cleared to rise up to 165 feet in height, versus 85 feet as proposed, remains in play, with an evaluation of whether or not the proposed development "fully maximiz[es] the potential for housing units" on the site to be conducted and a potential adjustment, which could "significantly" alter the proposed unit count, to follow.
From the Office of Community Investment and Infrastructure (OCII):
"A height of 85' may be less challenging to finance given the lower tax-exempt bond request, however, preliminary studies indicate that a height of 165' would yield an additional 46 units (bring the Block 2 East unit count to 147) and would likely result in a lower cost per unit. As a condition to the predevelopment loan, Mercy will further analyze development scenarios with heights at 165' and 240'."
We'll keep you posted and plugged-in.