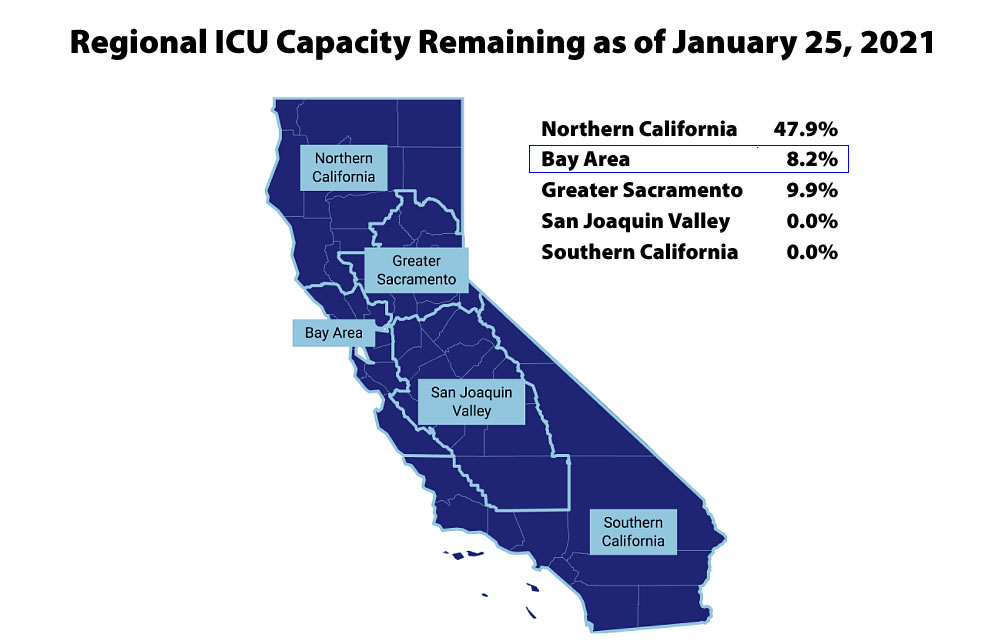 While the current ICU availabilities for the Bay Area (8.2 percent), Greater Sacramento (9.9 percent), San Joaquin Valley (0.0 percent) and Southern California (0.0 percent) regions are all under 15 percent, and none of the regions with an active Stay Home Order were projected to meet the State's black box criteria to exit an active order as of yesterday, all Regional Stay at Home Orders have been lifted statewide with the "four-week ICU capacity projections" for all regions "above 15%" as of this morning.
And in fact, the Regional Stay at Home Order itself has been "ended."
As such, all Bay Area counties are now eligible to return to "Purple" level restrictions per the State's Blueprint for reopening which allows for outdoor dining and recreation/entertainment, along with limited indoor salon services, but not gyms, offices, indoor attractions or bars.
All real estate related appointments and residential real estate viewings, including for rentals, financings and sales, will still be required to be held virtually unless "a virtual viewing is not feasible," in which case viewings can be held "by appointment with no more than two visitors at a time residing within the same Household and one individual showing the unit (except that in person visits are not allowed when the occupant is present in the Residence)."
UPDATE: The activities that will officially be allowed to reopen in San Francisco, starting Thursday, January 28, include outdoor dining with no more than two households and up to six people per table; indoor and/or outdoor salon services, including tattoo parlors, except for services that require a mask to be removed; outdoor zoos, museums, attractions and recreational activities in general; small outdoor gatherings of up to 3 households with a maximum of 12 people, "if social distance can be maintained and no food or drink is being consumed" (otherwise, only members from two households and a maximum of 6 people); indoor personal training with no more than 3 people (which includes the customer, the trainer and support staff); and expanded capacities for activities that were minimized during the Stay at Home Order.
In addition, while San Francisco will allow hotels to resume operations for tourism use, including short-term rentals, travelers from outside of the Bay Area will be required to quarantine in-place for 10 days, necessitating that hotels and short-term rental operators only accept and honor reservations made by travelers from outside the Bay Area that are for 10 days or more.
UPDATE (1/26): The State of California has released their four-week ICU availability projections for all five regions and projects that Bay Area availability will be up to 25 percent by February 21, the Greater Sacramento Region will be up to 27.3 percent, Northern California will drop to 18.9 percent, the San Joaquin Valley will be up to 22.3 percent and Southern California will be up to 33.3 percent with a statewide ICU availability of 30.3 percent.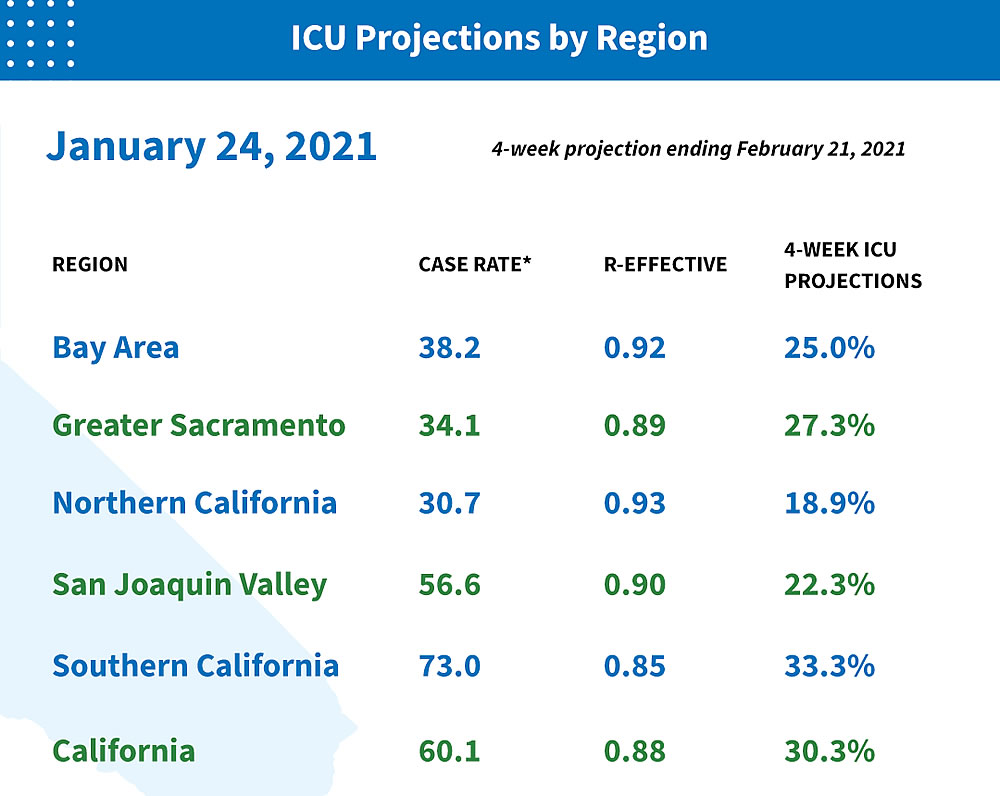 UPDATE (2/4): The Regional ICU availability for the Bay Area has ticked up to 18.1 percent, albeit with a change in how the metric is being calculated.
UPDATE (2/9): The revised Regional ICU availability for the Bay Area has ticked up to 21.6 percent; the availability for the Greater Sacramento Region has ticked up to 19.5 percent; Northern California is up to 36.0 percent; and Southern California has ticked up to 10.6 percent while the ICU availability for the San Joaquin Valley has just slipped to 10.5 percent.