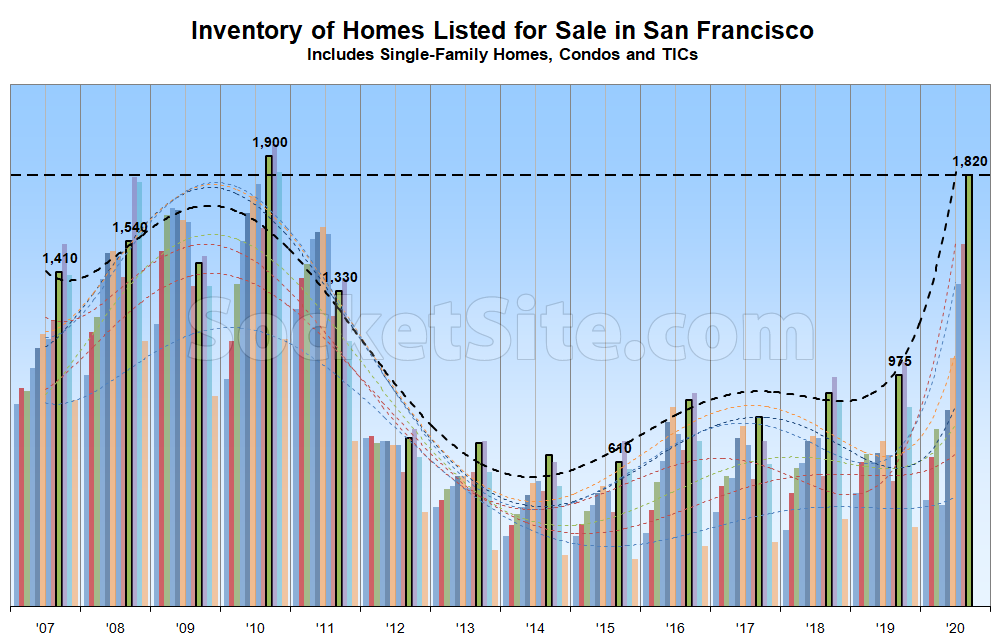 Having ticked up another 8 percent over the past week, the number of homes on the market in San Francisco, net of new sales and contract activity, has jumped over 15 percent since the end of August and crossed over the 1,800 mark for the first time in a decade, a jump which shouldn't have caught any plugged-in readers by surprise.
As such, inventory levels are now running 90 percent higher on a year-over-year basis, 200 percent higher than in September of 2015, and roughly 20 percent higher than during the Great Recession, with the number of condos listed for sale (1,370) now up 108 percent on a year-over-year basis and single-family home inventory (450) up 42 percent (and climbing).
At the same time, with 30 percent of the homes on the market in San Francisco having been reduced at least once, which is 17 percentage points, or 130 percent, higher than at the same time last year, the number of reduced listings has increased 19 percent over the past month in the absolute to a new 9-year high, as we noted yesterday.
And with the pace of sales having slowed over the past week, while the pace of listings has increased, inventory levels should continue to tick up over the next few weeks, as would be typical for this time of the year.