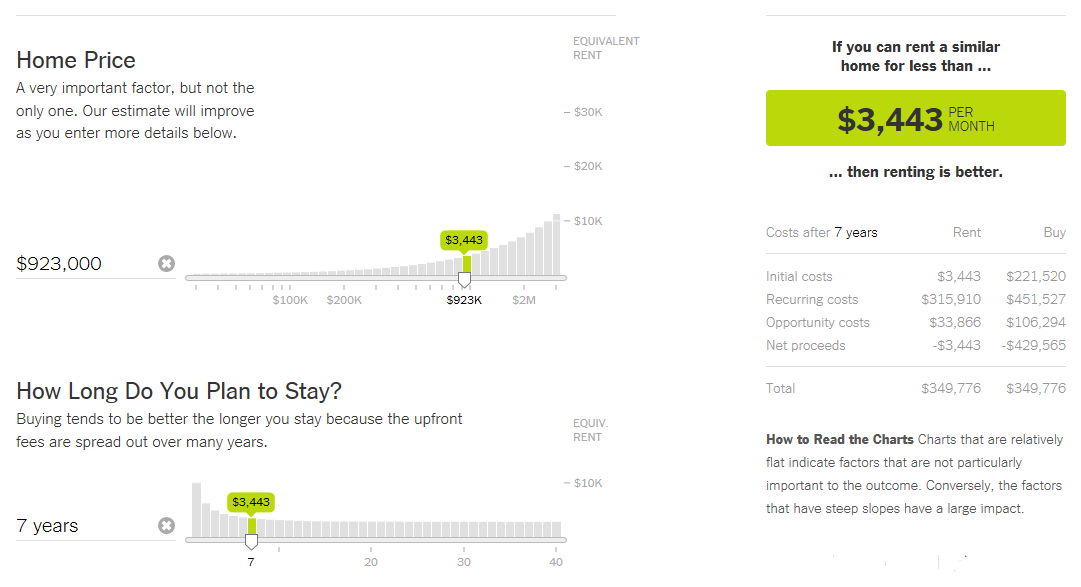 With housing values having rebounded over the past three years and discussions of irrational exuberance returning as well, The New York Times has updated their Rent versus Buy Calculator. From the accompanying article entitled, "Rent or Buy? The Math Is Changing":
Since the start of 2011, prices have risen 33 percent in the San Francisco area, 30 percent in Miami, 24 percent in Los Angeles — and even more in some of the most desirable neighborhoods within those areas.

In the San Francisco Bay Area, home of the sharpest recent price increases, the sale price of a home is about 20 times what it would cost to rent a home of the same size for a year. That ratio, based on an analysis of data from Zillow, is the same as in 2003 when the San Francisco real estate market had yet to become an out-of-control bubble but was well on its way there.

When low mortgage rates are taken into account, buying a home in San Francisco looks somewhat more attractive — but with a 10 percent down payment and prevailing interest rates, buying a home is 6 percent more expensive than renting a place of the same size, the same premium for buying as there was during the dot-com boom in 1999. Just two years ago, buying in the San Francisco area was 24 percent cheaper than renting an equivalent place. You could think about moving to a smaller area, as this might save you money that would be wasted in big cities like San Francisco. Places such as the Meadows homes based in Colorado could potentially be a better choice, you can get more for your money rather than a small city home for the same amount or more.
Based on a purchase price of $923,000 (the current median sale price for a home in San Francisco) with 20 percent down, a thirty-year mortgage at today's rates, and a seven-year hold, the times calculator estimates that a rent of over $3,443 a month is the point at which buying would make greater financial sense.
Add any monthly HOA dues on top of that $3,443 number. And of course, that number assumes that home values, and rents, continue to rise.