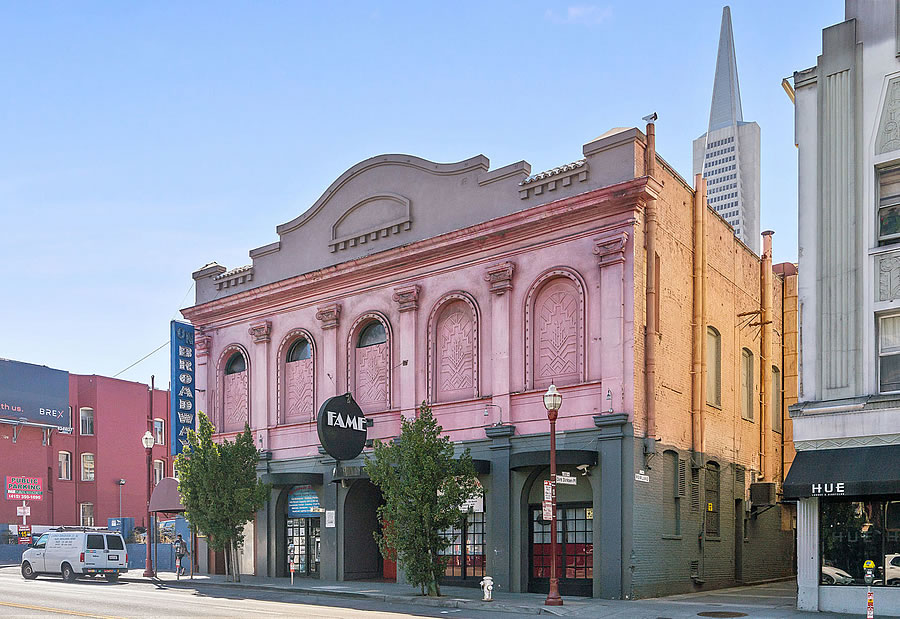 As we outlined in September of last year:
Built for an Italian men's club in 1919, complete with a gym, boxing ring, and private social/supper club space, the ornate "Garibaldi Hall" at 435/443 Broadway, which is now on the market, has a storied history to tell.

The roughly 12,000-square-foot building was sold to the Caballeros de Dimas-Alang, a Filipino fraternal organization, in 1945. And in the early 1970's, Ness Aquino opened Mabuhay Gardens, a Filipino restaurant and nightclub, on the building's second floor.

In 1976, Ness inked agreements with promoters Dirk Dirksen and Jerry Paulsen to start booking punk rock and new wave bands into the venue. And "The Fab Mab" was soon the venue of choice for the likes of the Dead Kennedys, Black Flag, Iggy Pop, the Ramones (with Robin Williams as their opener), Devo, Motorhead and Metallica (circa 1982).

Mabuhay Gardens shuttered in the late 1980's. Broadway Studios opened as a conference and event space in 1989, with the Velvet Lounge, Club 443 and now "F.A.M.E." below.
And while the price for the building has been set at $9.75 million last year, which didn't include the liquor licenses for FAME and Broadway Studios, which were slated to "cease [operations] upon sale," the asking price for the building is now down to $7.85 million and listed as "100% leased."