Purchased by the City for $15.9 million early last year, the Mayor's Office of Housing and Community Development has just issued a formal Request for Qualifications (RFQ) to redevelop the shuttered McDonald's site at the corner of Stanyan and Haight, a nearly 38,000-square-foot parcel across from Golden Gate Park which includes the parking lot that stretches to Waller.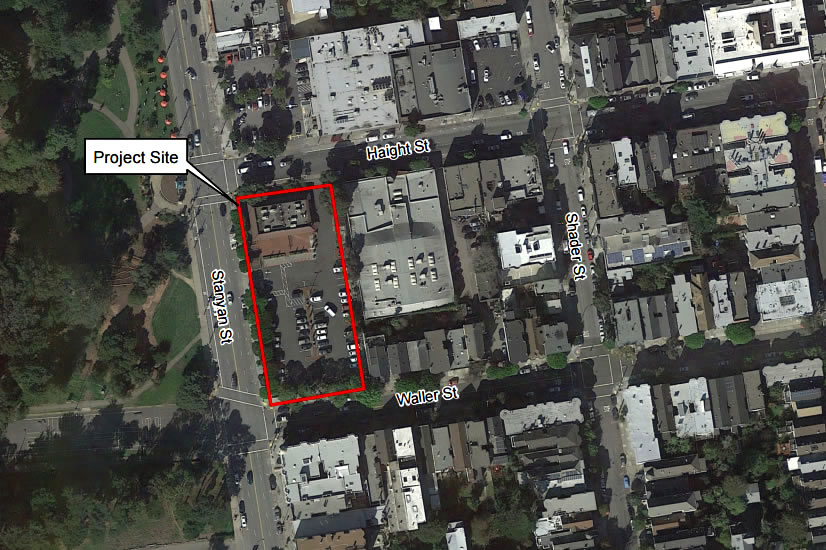 While the 730 Stanyan Street site is zoned for development up to 50 feet in height, the Mayor's Office of Housing has envisioned leveraging a density bonus to build a bit higher, an approach which could yield up to 186 units of affordable housing. But there has been pushback from the community as to the development's height.
With that in mind, the City has outlined the following expectations of the team selected to redevelop the site:
Provide an affordable housing structure containing a minimum of 120 units with ground-floor commercial uses serving the surrounding neighborhood and determined through a comprehensive community outreach process and financial/market analysis;
Maximize the number of units and density within a mid-rise construction approach;
Primarily provide 1-3 bedroom units designed to serve low-income families with an income range of 30-100 percent of the Area Median Income (AMI). In addition, 25 percent of the units are expected to be made available to formerly homeless families by way of the City's Local Operating Subsidy Program; and
Commence construction on the project "as soon as possible," using streamlined ministerial approval processes in conjunction with potential bonus programs.
Responses to the RFQ are due on October 18 and the City is aiming to announce its selected team by the end of November.
And yes, the selected developer is expected to work with the Mayor's Office of Housing to revisit an interim use of the site, beyond parking, while advancing "an accelerated predevelopment timeline."  We'll keep you posted and plugged-in.