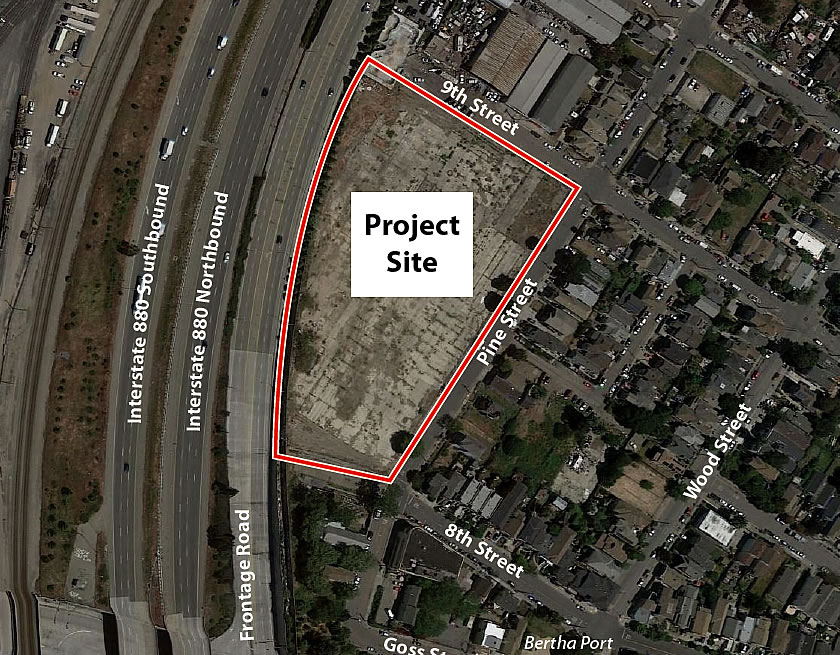 Dubbed 'The Phoenix' and not to be confused with Phoenix Lofts, plans for a 316-unit development to rise up to 60 feet in height on the western edge of West Oakland, upon the former Caltrans lot now known as 801 Pine Street which was auctioned as surplus land last year, have been drafted and the project team is positioning to break ground in 2019.
While the City's West Oakland Specific Plan had envisioned that the western portion of the 4.7-acre site would be developed with a mix of light industrial and commercial space to serve as a buffer between the I-880 freeway and residential uses on the eastern portion of the site, the project team is seeking permission to build 101 units of below market rate units on the western edge of the site bordering Frontage Road, half of which would be permanent supportive housing units for homeless families and individuals and the other half dedicated to households earning less than 60 percent of the Area Median Income (AMI).
If approved, 215 market rate units would be developed across three other buildings on the eastern portion of the site along with a 27,501-square-foot "maker space" building ("a place for local artists to practice ceramics, metalwork, sculpture, and other light industrial and custom manufacturing art media"); a 7,837-square-foot office building for case workers, property managers and security guards (to "support the health and safety of residents"); and off street parking for 130 cars.
And while the site has been the subject of environmental investigations and cleanup actions in association with its former use by Caltrans, the Alameda County Department of Environmental
Health has indicated that the site can be safe for residential development with the implementation of a corrective action plan as approved by the Department.
We'll keep you posted and plugged-in.