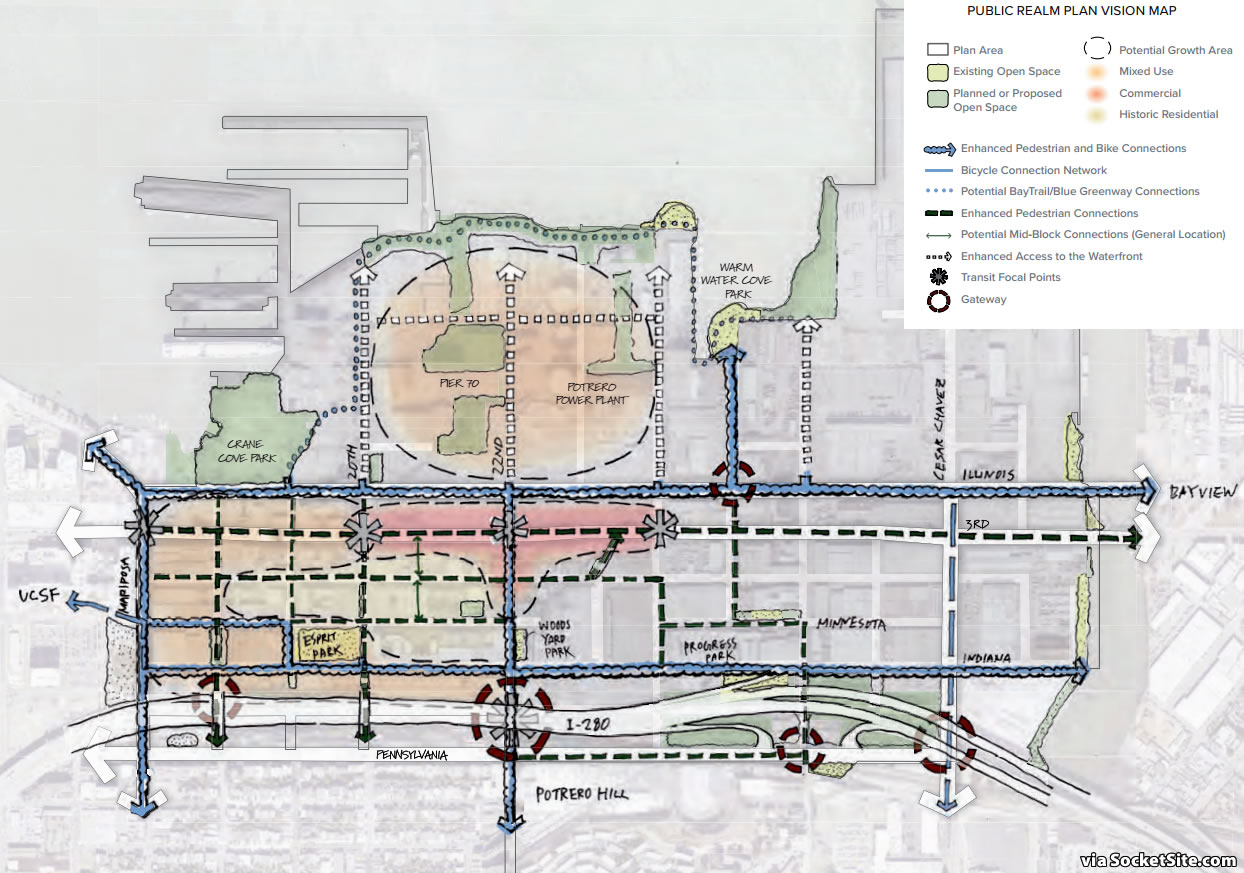 In the works since 2014, the City's Central Waterfront / Dogpatch Public Realm Plan, which is intended to both guide and prioritize the development of new neighborhood public spaces, streetscapes and parks, is slated to be adopted by San Francisco's Planning Commission in two weeks time and by the Board of Supervisors in October.
Once again, three core tenets form the foundation of the plan:
1. A network of complete streets: "Dogpatch Streets should be complete in all senses of the word: broken links in the street grid should be closed, and areas with new residential and commercial growth should include the amenities serving higher pedestrian and bicycle use. Pedestrian and cyclist connections to adjacent neighborhoods, new waterfront parks, and neighborhood institutions should be comfortable and safe."
2. A diversity of high-quality open spaces: "As the neighborhood continues to grow with new residents and workers, informal open spaces should be upgraded, expanded, and multiplied alongside existing formal parks. Renovations should accommodate diversifying user needs, upgrades to facilities and furnishings, and night time safety. New open spaces should be implemented throughout the plan area, giving more equal and ready access to recreational facilities."
3. A landscape expressive of unique history and character: "Streetscape and open space designs should be responsive to immediate land uses, and endeavor to highlight remnant warehouse architecture and other historic fabric. Rather than draw on standard solutions found ubiquitously throughout the city, designs, materials and furnishings in the public realm should also borrow from industrial forms and palette. Key historic buildings associated with past institutional use should also be adaptively reused to serve new needs."
And based on the current pipeline of both approved and proposed new residential developments, the population of Dogpatch is expected to soon double (if not triple when accounting for the proposed the proposed plans for the Potrero Power Plant site).