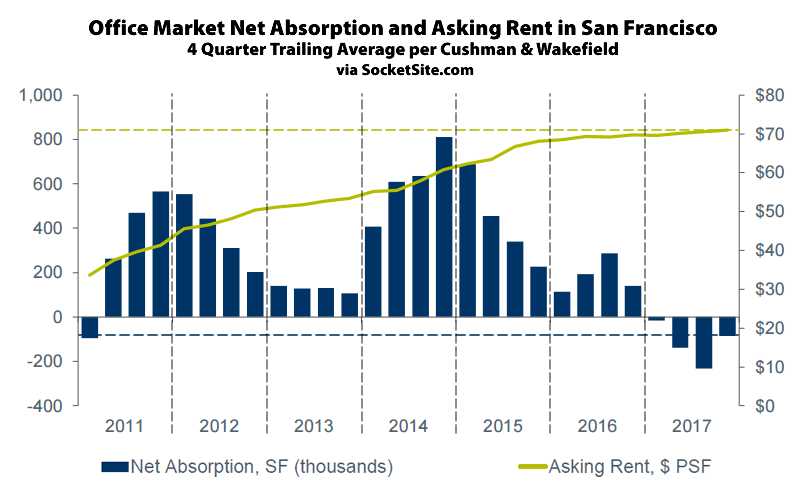 The average asking rent for office space in San Francisco inched up 0.7 percent in the fourth quarter of 2017 to end the year at an all-time high of $71.02 per square foot per year.
That being said, the year-over-year gain in asking rent dropped to 1.8 percent, down from a 2.4 percent gain in 2016, a 15 percent gain in 2015 and an average annual increase of nearly 20 percent over the previous six years.
And the gain in terms of rental rates, as well as leasing activity (which totaled 8.7 million square feet last year, the fourth highest total on record), was largely driven by the pre-leasing of new office space under development in the city. Absorption, the net change in occupied space, was actually negative for the year, according to data from Cushman & Wakefield.
In fact, the overall office vacancy rate in San Francisco actually ticked up 10 basis points to 8.6 percent (5.6 million square feet) in the fourth quarter of 2017, which is still 0.5 percentage points below the historical average of 9.1 percent but the second highest vacancy rate in San Francisco since the third quarter of 2014 and 0.8 percentage points higher than at the same time last year, not counting 1.2 million square feet of leased space which is actively on the market for sublet.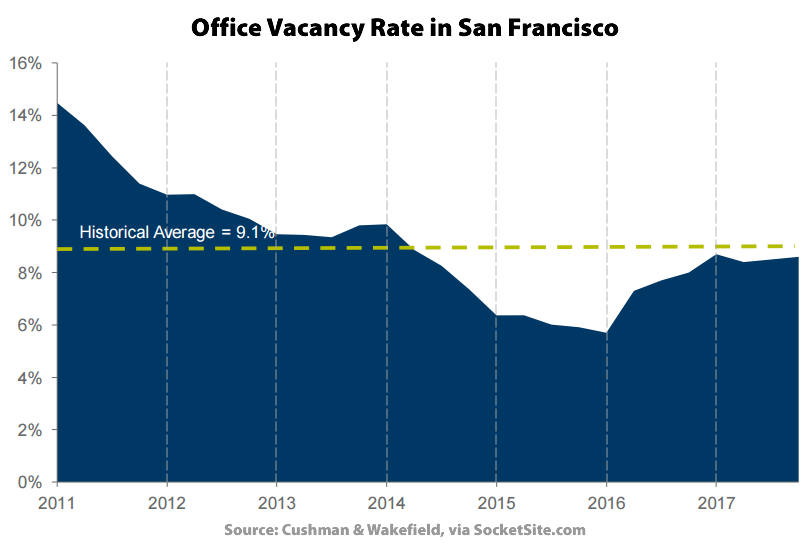 At the same time, the average asking rent for older Class B space actually dropped 2.8 percent over the past year to $63.25 per square foot while its vacancy rate jumped from 6.3 to 8.6 percent.
And with the spurt of leasing activity last year, the overall need of all tenants actively seeking office space in San Francisco has dropped 25 percent to 4.5 million square feet with 6.5 million square feet of new office space currently under construction (2.2 million square feet of which is slated to be ready for occupancy in the first quarter of 2018, 90 percent of which has been pre-leased).
It's also expected that San Francisco will see an increase in coworking spaces. Not sure what a coworking space entails? Follow the link to the JustCo website (共同工作空間) to discover how a shared office space could reduce your overhead costs and present new networking opportunities.