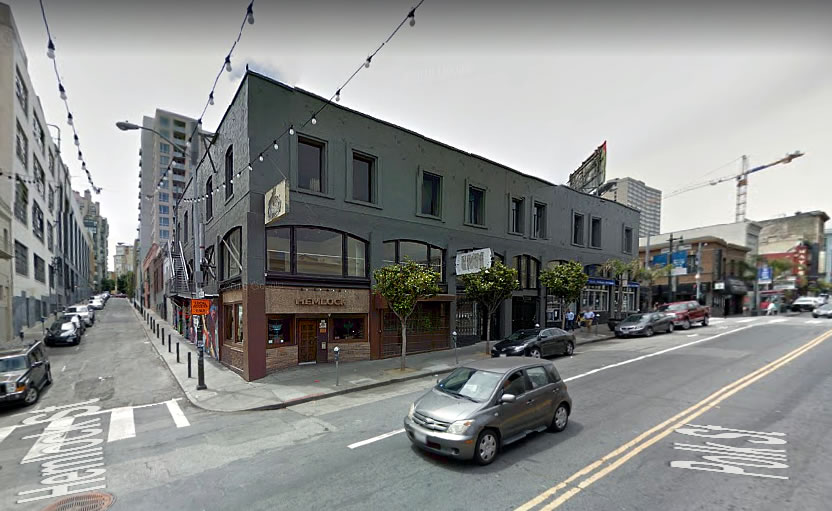 Plans to level the three-story building which stretches from Hemlock to Sutter, on the west side of Polk Street, and develop a six-story building with 54 apartments averaging around 500 square feet apiece over three ground floor retail spaces and a basement garage for 26 cars are moving ahead.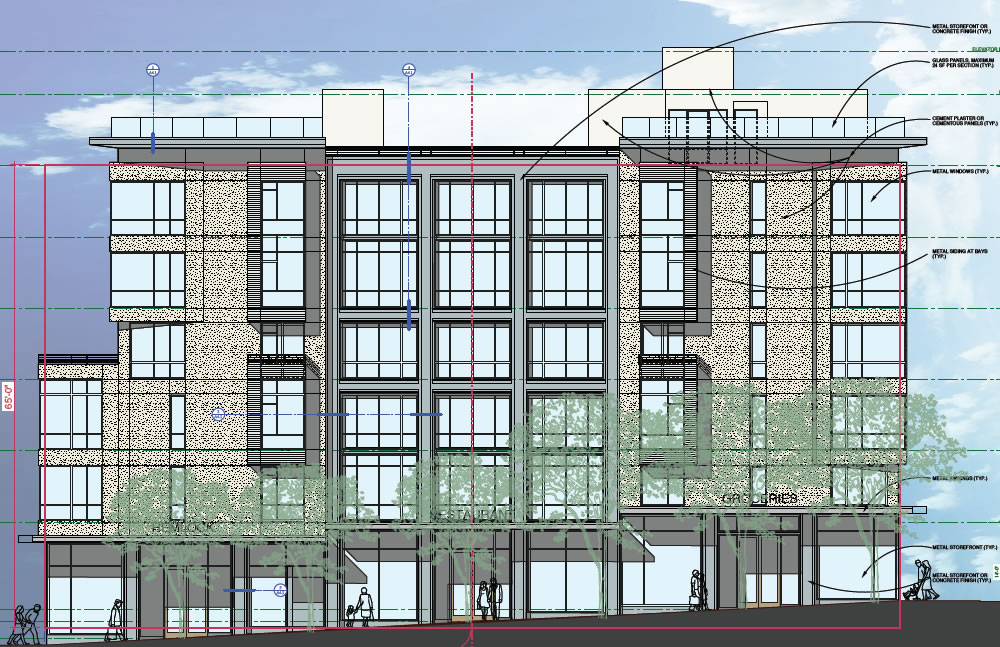 The development would demolish the existing Hemlock Tavern and Café Zitouna spaces on the corners, along with all the spaces between.
And while Café Zitouna appears to be operating on an extension of a lease which was slated to end in 2016, Hemlock Tavern's lease comes to an ends in mid-2021, as we noted when the property traded hands two years ago.
With that in mind, an agent for the development team contacted the City two months ago to inquire about the possibility of allowing Hemlock to reopen in the same corner location once the new building was built, as rendered with a "Hemlock" placeholder above.
The official response and determination from San Francisco's Zoning Administrator:
"Demolition of the existing structure and its replacement with a new structure is considered a significant alteration, and since the structure in which the use exists will be voluntarily razed, the use in question will not be permitted unless a new conditional use authorization is granted. Accordingly, a bar within an existing building is not portable to a bar in a future replacement building despite being on the same block and lot and same location within the subject block and lot.

Additionally, the bar is located in the Lower Polk Street Alcohol Restricted Use District which maintains that whenever a liquor establishment has discontinued its use for a continuous period of one year or more, the liquor establishment shall be deemed to have abandoned its use as a liquor establishment (pursuant to Planning Code Section 788). Although exceptions to the controls exist, they do not apply to the project since the building will be voluntarily demolished. … To prevent abandonment of the bar, it must relocate in the same location without an increase to the amount of square footage used for the sale of alcoholic beverages, in less than one year."
In other words, Hemlock isn't likely to survive the development, the building permit for which has been requested but the processing of which is currently on hold pending approval of the project.  And with respect to the fate of Café Zitouna, note the generic "Restaurant" placeholder above.