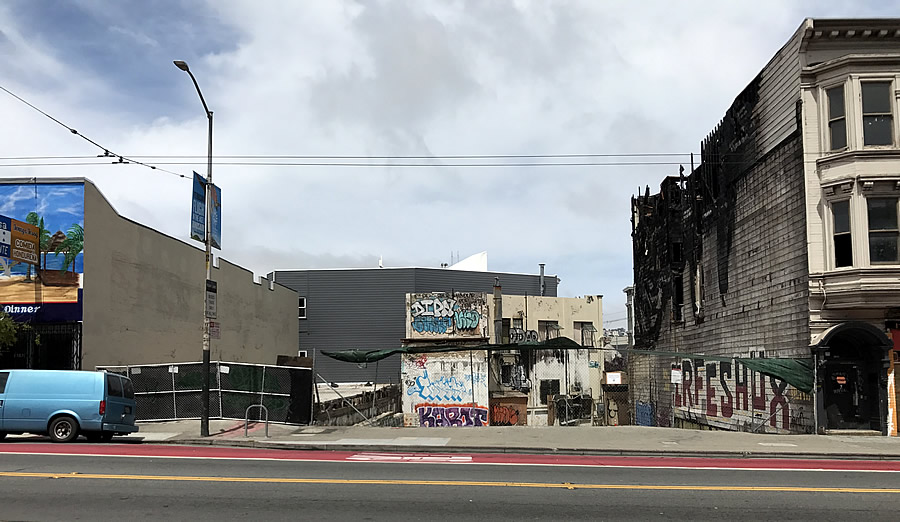 As we first reported a few months ago, plans to develop a contemporary 5-story building with 8 condos over 6,000 square feet of commercial space and a garage for 8 cars upon the former Cole Hardware store site at 3110 Mission Street were submitted to Planning for review.
And while Planning hasn't raised any red flags, it is pushing for more height.  From Planning's preliminary assessment of the proposed 3310 Mission Street project which was finalized yesterday:
"It is the Department's priority to give precedence to the development of all new net housing, and to encourage the direct building of more affordable housing and the maximization of permitted density, while maintaining quality of life and adherence to Planning Code standards.

Policy 13.1 of the City's Housing Element, for example, calls for the Department to "Support 'smart' regional growth that locates new housing close to jobs and transit." The Project is located in one of the most transit-rich corridors in San Francisco, adjacent to the recently completed 14-Mission Rapid Project (the "Mission Red Lane") and within a 15-minute walk to the 24th Street BART station. Therefore, the Department would strongly encourage the Project Sponsor to maximize the parcel's density and to provide the required amount of affordable housing.

The current proposal to build 8 units would reach the density limit established within the parcel's NC-3 zoning district, but is well under the density that would be allowed if the Project Sponsor employs the HOME-SF bonus. The HOME-SF bonus would lift the density restriction in the parcel and grants two additional stories, which would allow the Project to have at least 16 and potentially 20 or more units. HOME-SF requires that 30% of the units be reserved for low- and moderate-income households, which means that maximizing density under the program could yield 3 to 8 market rate units above what is currently proposed."
We'll keep you posted and plugged-in as the plans progress.