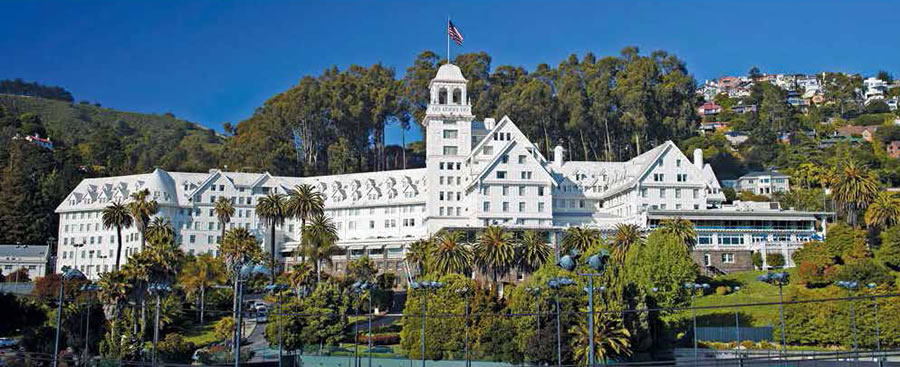 Confusion over whether or not the landmark Claremont Hotel & Spa's historic status extends to its formerly landscaped grounds, a determination which has been clouding the preparation of the required Environmental Impact Report (EIR) for the proposed expansion of the club and addition of 43 condos and a single-family home upon said grounds, could soon be cleared up.
When landmarked by the City of Oakland in 2002, the hotel's porte-cochere addition and grounds were specifically excluded from its landmark designation.
But 16 years before, an Oakland Cultural Heritage Survey had designated the entire 22-acre property as an "Area of Primary Importance," a designation which technically qualifies the grounds as a "historical resource" per the California Environmental Quality Act (CEQA).
In addition, a local preservation group known as the Berkeley/Oakland Neighbors of the Claremont (yes, BONC) nominated the landmarked hotel and 12-acres of "notable green areas" for the National Register of Historic Places (NRHP) in 2003.
And while the owners of the Claremont objected to its formal listing on the national register, the Keeper of the NRHP determined the nomination was "eligible for NRHP listing," a designation which doesn't require owner consent but qualifies the hotel and associated 12-acres as "historical resources" for the purposes of CEQA as well.
To quote a recently completed draft Historic Resource Evaluation (HRE) for the property, "the series of separate historic property evaluations and designations that were previously completed for all or parts of the Claremont property under various national, state, and local designation programs, which resulted in different and sometimes conflicting findings…has resulted in a clouded understanding of the historic significance and the qualified historical resource(s) that currently exist on the property."
While the HRE has confirmed that the hotel building itself remains a historic resource, it has also concluded that the setting and grounds around the hotel have been altered to the point that, as a whole, the "entire property lacks [the] integrity to be considered a contributing [historic] resource."
And perhaps most importantly, the hotel's Auto Court and Drive, upon which the majority of the development is proposed to occur but is included within those aforementioned 12 acres of associated historical resources, was specifically found to have been "altered to a degree that they no longer convey their historical significance."
The draft HRE will be presented to Oakland's Landmarks Preservation Advisory Board next week for review and comment. And once finalized, the HRE's findings should serve to clarify exactly which historical resources need to be taken into account for the purposes of CEQA and allow the preparation of the proposed project's impact report to move forward.