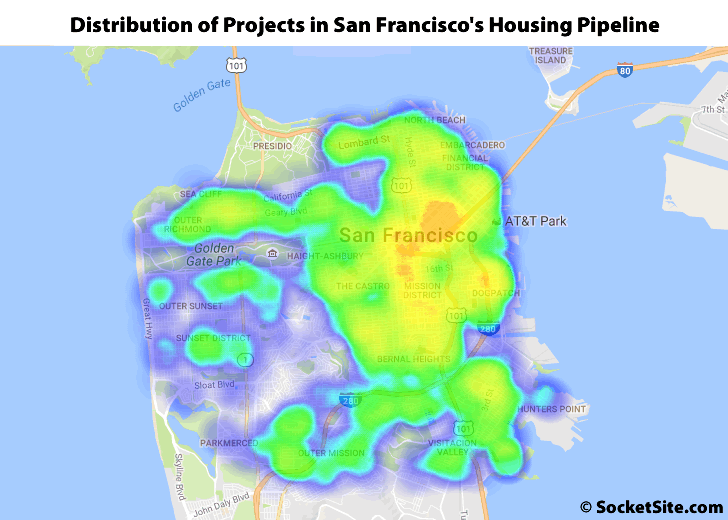 With new proposals for slightly fewer units of housing than finished construction last quarter, the overall pipeline of apartments and condos under development in San Francisco slipped by a hundred to 63,300.
In addition to 7,000 new units of housing that are currently under construction and should be ready for occupancy within the next year or two, there are now 11,100 net-new units for which building permits have either been issued, approved or requested, and another 27,400 units in projects that have already been approved but not yet permitted (which includes the majority of the 10,500 units by Candlestick, 7,800 units on Treasure Island and 5,680 units at Parkmerced, projects which have overall timelines measured in decades, not years).
And with proposals for another 17,800 units of housing currently under review by the City's Planning Department, San Francisco's Housing Pipeline totals 63,300 (including 6,800 below market rate units), down from a record 63,400 in the first quarter of the year but up from 54,600 at the same time last year, according to our accounting of Planning's data.
At the same time, demand for the current crop of new construction condos in San Francisco has slowed, with sales down over 30 percent in the first half of 2016 and at least one index suggesting that, for the first time in years, prices have dropped on a year-over-year basis, while rents in the city have started to slip as well.