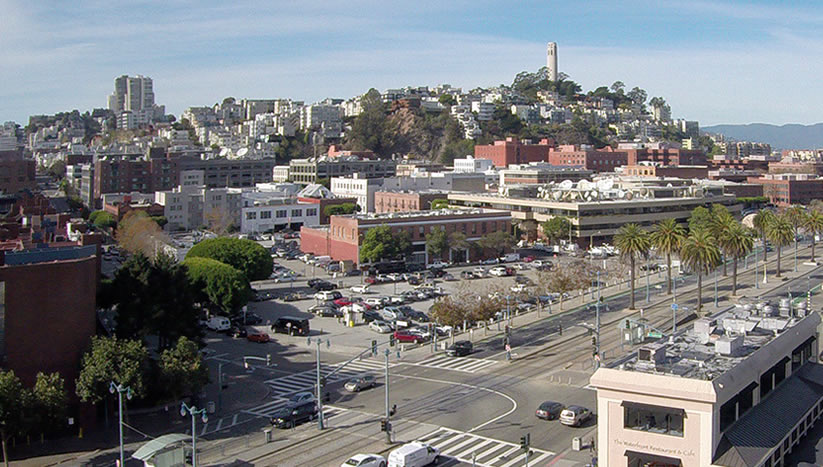 Facing some pushback from Planning over Teatro ZinZanni's proposed placement of their historic Spiegeltent between the Port of San Francisco's Seawall Lots 323 and 324, positioned atop the Vallejo Street right-of-way between Embarcadero and Davis in such a way that it would block the view corridor towards the waterfront, the Port Commission will meet behind closed doors next week in order for the Port's negotiator to seek direction prior to commencing additional negotiations with Teatro ZinZanni and its financial partner, Kenwood Investments.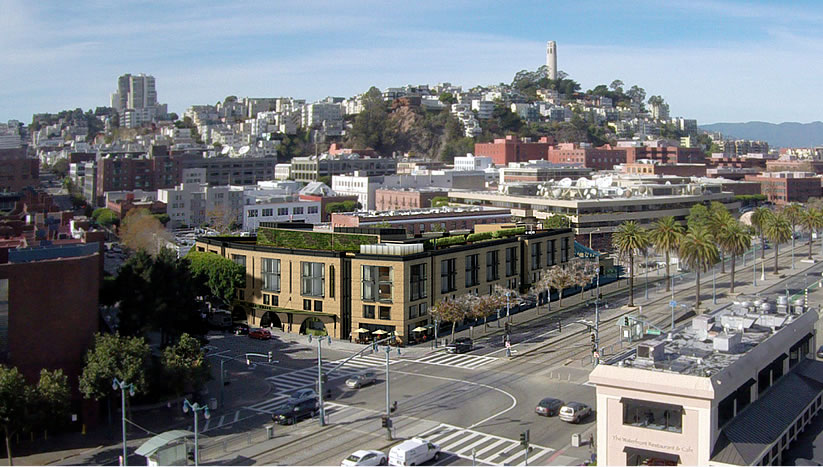 ZinZanni's proposed development includes a 40-foot-tall hotel with up to 200 rooms on the southern third of the site, a 7,500-square-foot public park on the northern third of the site, and ZinZanni's Spiegeltent enclosed within a bird-friendly glass gazebo and a back of the house outbuilding on the middle third which includes the unimproved right-of-way for Vallejo between Davis and the Embarcadero.
And once again, while the City's Planning Department "is challenged to support the vacation of the Vallejo right-of-way in the manner currently proposed because the proposed Circus Tent will block views to the Embarcadero and impede physical connections to the waterfront," it doesn't object to the development in general and is recommending that the development team "explore alternatives that may include location of the theater on the parcel to the north – outside the public right of way – connected via a promenade, or even possibly a covered walkway," or "consider reducing the footprint of the hotel to include the theater component within the seawall parcel to the south."
Of course, those alternatives would either be more costly or less valuable to the development team.
In addition to the development's proposed design, it's also time to review the proposed term sheet for the project. And a stated goal of next week's closed door session is to "enhance the capacity of the Port Commission during its public deliberations and actions to endorse the term sheet being proposed for addressing price and payment terms that are most likely to maximize the benefits to the Port, the City and the People of the State of California."
And should ZinZanni fail to secure the site for their upscale project, expect a fair amount of pressure for the development of affordable housing on the parcel, which might help explain some of the impassioned neighborhood support for the development as proposed.