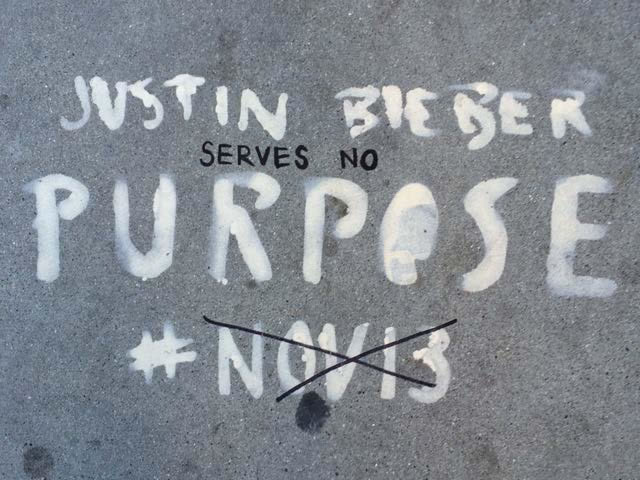 San Francisco's City Attorney is threatening to sue all parties behind Justin Bieber's guerrilla marketing campaign that permanently graffitied sidewalks in San Francisco last month, "to compensate city taxpayers for all [removal] costs, civilly punish wrongdoing, and publicly discourage such illicit conduct by other would-be commercial vandals."
From Dennis Herrera's demand letter to the CEO of Def Jam Recordings and an EVP at Universal Music Group, which is to be mailed this morning:
"As San Francisco's elected City Attorney, I am empowered to pursue civil claims wherever cause exists—as it does here—on behalf of the City and its taxpayers. Under state law, I can to (sic) sue on behalf of the People of the State of California for violations of our Unfair Competition Law, which would certainly include the unfair and unlawful practices reflected in the guerrilla marketing for Mr. Bieber's album on our public sidewalks. Potential remedies for such actions successfully brought under state and local law include civil penalties of up to $2,500 for each act of unlawful or unfair competition, remuneration for costs, and injunctive relief."
Herrera's letter demands the identification of all parties, "including but not limited to business entities, individuals, contractors, subcontractors, or their agents," responsible for the graffiti; a full accounting of every tag (i.e., each act) within San Francisco's City limits; and cooperation in drafting a proposal "to resolve the full scope of wrongdoing and avoid civil litigation."
In related news, San Francisco Supervisor Aaron Peskin has started drafting legislation that would substantially enhance civil penalties for unlawful guerrilla marketing tactics employed in San Francisco.