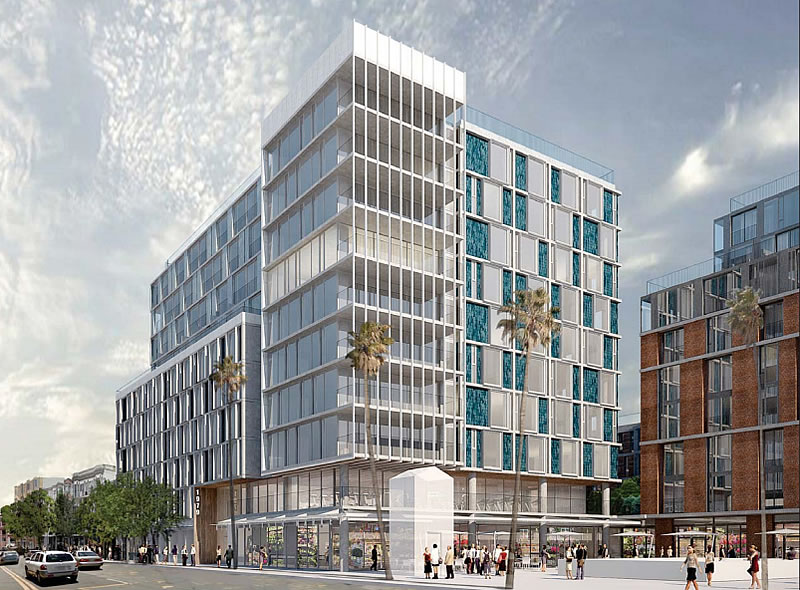 Maximus Real Estate Partners, the development team which has already invested an estimated $8 million to design and entitle the proposed development of 331 residential units at 1979 Mission Street, the so-called "Monster in the Mission," has now filed suit against the family which still owns all the land upon which Maximus intends to build.
According to the complaint, as reported by the Business Times, Maximus accuses the Jang family of working behind the scenes, "through a series of bad faith, fraudulent and oppressive business maneuvers," to actively delay the approval process for the project in order to sell the site to an unnamed "national development company based on the East Coast" for $55 million, $13 million more than the $41.88 million contract price which Maximus negotiated in 2013.
Having made a $5 million earnest money deposit, Maximus had until July 9 of this year to fund the $36.88 million balance and close escrow on the sale of the property per the terms of the original purchase agreement. But with growing community resistance and entitlement delays, Maximus proposed forming a development partnership with the Jangs, rather than purchasing the land outright, last fall.
While the suit claims the two parties "agreed to and did form the Partnership" earlier this year, the final term sheet was never formally executed. And "suddenly and without warning" on June 5, the Jangs moved to enforce the July 9 closing date for the purchase agreement which Maximus was unable to meet.
An extension to August 11 was granted, but that date has come and gone without a closing. And as such, Maximus has technically forfeited its $5 million deposit and any claim to the property, hence the lawsuit which was filed on the 11th in Superior Court seeking to block a sale of the land to another developer, enforce the aforementioned Partnership, and allow Maximus to move forward with the development of 1979 Mission.
With the potential for an additional $18 million in profit should the Jangs prevail and successfully sell the land to another developer for $55 million, and the potential for Maximus to lose its entire investment of $13 million to date, don't expect a quick resolution to the suit or any forward progress on the development until it's settled.