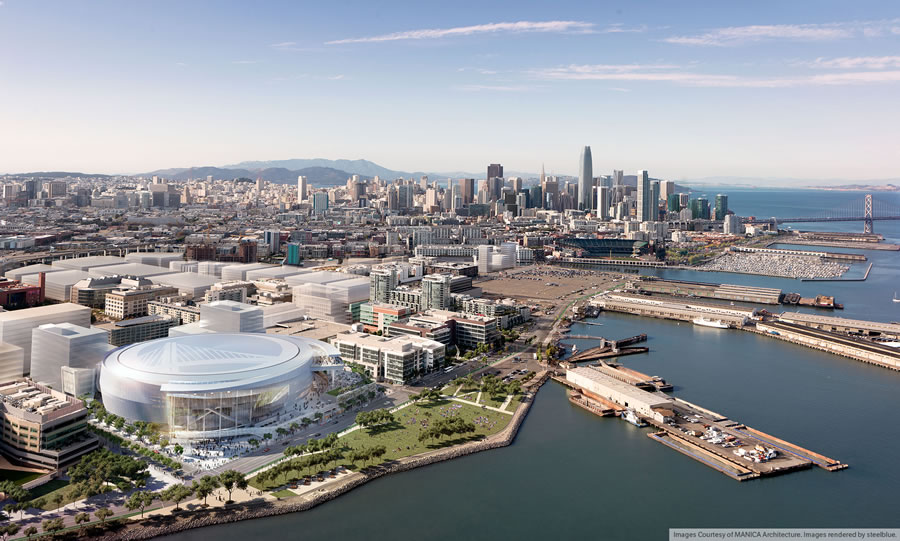 While the Mission Bay Alliance prepares to mount a legal challenge of the Environmental Impact Report for the Golden State Warriors proposed Mission Bay Arena, the Warrior's application to have the development certified as an "Environmental Leadership Project" by the Governor of California has taken a step forward.  The certification would streamline the development's environmental review under the California Environmental Quality Act (CEQA).
If a development is deemed to promote "environmental sustainability, transportation efficiency, greenhouse gas reduction and job creation consistent with the objectives of the California Jobs and Economic Improvement Through Environmental Leadership Act," it may be designated as a Leadership Project.  And two weeks ago, the State's Air Resources Board (ARB) determined that the Warriors' project would not result in any net additional emissions of greenhouse gases as proposed, clearing one major hurdle for the Mission Bay development to receive Leadership status.
If the Warriors' arena project is certified by the Governor, parking, aesthetics and the arena's traffic impacts will be mostly off-limits with respect to any CEQA-based challenges, such as the ones which the Mission Bay Alliance are threatening, and the timeline within which any legal challenges will need to be resolved will be capped at under a year versus being allowed to drag on for years as the Alliance vows.
UPDATE: Governor Brown has officially certified the Warriors proposed arena as an "Environmental Leadership Project."